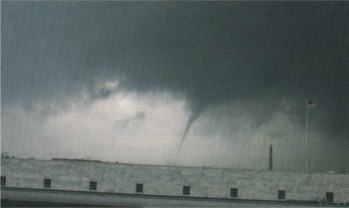 It was just thirteen days after the 9-11 terrorist attack on America back in 2001. Concern was very high that there would be another terrorist attack. When the Emergency Action Notification System sounded in the Washington D.C. area, most people immediately thought the alert was for another attack.
But a look to the skies told the story. It was for a tornado warning. The dramatic severe weather statement from the National Weather Service in Sterling VA was that a tornado had been sighted near the Pentagon.
WRC-TV Meteorologist Bob Ryan was on the air showing dramatic radar images of the tornadic supercell crossing the District of Columbia. It was the first tornado in the District since the 1920s.
Fortunately, the Pentagon tornado was only an F1, but it took a very visible fifteen mile long path, passing near the Pentagon, the Monuments, the Smithsonian, the Capitol, and crossing the 14th street bridge. Cars had their windows blown out on I-395.
Shortly after the Pentagon tornado lifted, a stronger F3 tornado touched down and carved an eighteen mile path into Maryland, cutting directly across the University of Maryland campus in College Park. Two students were killed in their car after having been warned to leave before the storm hit. The warning process worked well, with early forecasts, statement, watches and warnings all issued well in advance of the storm.
Category: Met 101/Weather History
Bill Murray is the President of The Weather Factory. He is the site's official weather historian and a weekend forecaster. He also anchors the site's severe weather coverage. Bill Murray is the proud holder of National Weather Association Digital Seal #0001
@wxhistorian