An all new edition of the ABC 33/40 Weather Xtreme video is available in the player on the right sidebar of the blog. You can subscribe to the Weather Xtreme video on iTunes by clicking here.
HEADED FOR THE 80s: A few spots did reach the 80 degree mark yesterday, but we expect just about everybody around here to rise into the low 80s today; about 10 degrees above average, but below the record high for April 9, 87 set in 1965. Although moisture levels are on the rise, we don't expect any showers of any real significance today with a mix of sun and clouds.
TO THE WEST: SPC has parts of North Texas and Oklahoma under a "moderate risk" of severe weather… roughly from Wichita Falls to Oklahoma City; surrounding that there is a "slight risk" as far north as Iowa. A few significant tornadoes will be possible in that moderate risk area later today and early tonight, but all of this action remains well to the west of Alabama.
TOMORROW: The GFS is printing a high of 85 degrees tomorrow… within three degrees of the record high for April 10. Winds will increase out of the south, but a capping inversion should keep most of Alabama dry. To the west, SPC has a severe weather risk all the way from the western Gulf Coast up to near Indianapolis, and a 45 percent severe weather probability enhancement over East Arkansas and Southeast Missouri. Once again, a few significant tornadoes will be possible in this region, west of Alabama.
THURSDAY'S SEVERE WEATHER THREAT IN ALABAMA: Generally speaking, not much overall change in our thinking…
*The primary window for severe weather in Alabama will come from 9:00 a.m. until 9:00 p.m. Thursday. We could see a few storms before 9:00 a.m. but the main severe weather comes later.
*Projected shear profiles are not impressive; this will greatly limit the tornado threat. While the chance of a tornado is not zero, we believe tornadoes will be very isolated in nature. Forecast soundings look pretty unidirectional, and bulk shear values in the lower levels are fairly low for an event like this.
*The primary risk will come from strong, perhaps damaging straight line winds along a QLCS (quasi linear convective system, or squall line) that will blow through Alabama. The RPM really hints the line will pass through during the afternoon and evening hours, when instability will be a little higher, but the projected instability values are not really impressive for an April event (surface based CAPE values under 750 j/kg) with clouds expected much of the day, and surface temperatures in the low 70s.
*SPC has most all of Alabama in the standard "slight risk" of severe weather Thursday; higher severe weather probabilities (30 percent) are generally south and east of Birmingham. But understand, it doesn't make much sense to ask about any one specific place since the entire state will be impacted.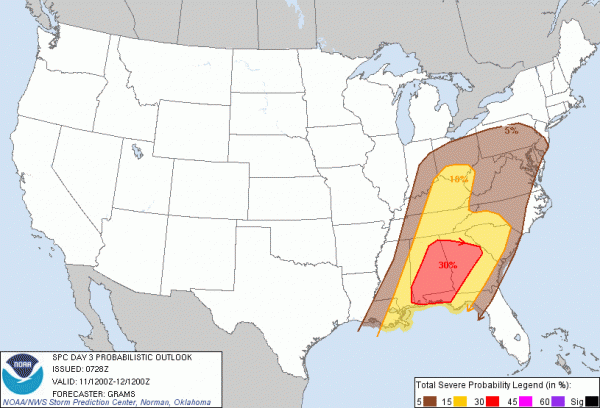 *The line will pass through rather slowly, and we are now expecting rain amounts of around two inches in many areas. This could lead to a few flash flooding issues, especially in low and flood-prone areas.
Just a reminder… please take severe thunderstorm warnings seriously Thursday; damaging straight line winds can produce damage just like a tornado in some cases. See the Weather Xtreme video for the maps, details, and graphics concerning the Thursday severe weather threat.
FRIDAY AND THE WEEKEND: The sky becomes mostly sunny on Friday as drier air returns to Alabama, and the day will be cooler with a high in the upper 70s. Saturday will be a delightful day; we begin the day in the 40s, and the high will be in the low to mid 70s with sunshine in full supply. Sunday will be partly sunny with a high in the upper 70s.
The GFS continues to show showers returning to Alabama early next week… in fact both Monday and Tuesday look warm, humid, and showery with a high around 80 degrees. Again, see the Weather Xtreme video for the details and graphics.
WEATHER BRAINS: Don't forget you can listen to our weekly 90 minute netcast anytime on the web, or on iTunes. This is the show all about weather featuring many familiar voices, including our meteorologists here at ABC 33/40. Scroll down for the show notes on this week's new episode we recorded last night.
CONNECT: You can find me on all of the major social networks…
I will be doing a weather program today at Cullman Primary School… look for the next Weather Xtreme video here by 4:00 this afternoon. Enjoy the day…
Category: Alabama's Weather
James Spann is one of the most recognized and trusted television meteorologists in the industry. He holds the AMS CCM designation and television seals from the AMS and NWA. He is a past winner of the Broadcast Meteorologist of the Year from both professional organizations.