An all new edition of the ABC 33/40 Weather Xtreme video is available in the player on the right sidebar of the blog. You can subscribe to the Weather Xtreme video on iTunes by clicking here.
RAIN ON THE WAY OUT: A radar check just before daybreak shows most of the rain quickly exiting East Alabama, and the day ahead will be mostly rain-free for Alabama. The weather will be sharply cooler; the high for places like Birmingham, Tuscaloosa, Anniston, and Gadsden will be around 50 degrees, and many communities over North Alabama won't make it out of the 40s. The sun could break out this afternoon as drier air works into the state temporarily.
ACTIVE PATTERN: This is a very active flow pattern across North America, meaning it won't stay dry around here for long. A dynamic storm system will bring more rain to our state late tomorrow and tomorrow night; looks like the main window for rain comes from about 3:00 p.m. tomorrow through 3:00 a.m. Wednesday.
STRONG STORMS? This is a very dynamic weather system, but with marginal thermodynamics. Something we see pretty often during the cold season. There is very little surface based instability, but excellent dynamic forcing. The SPC does not have any formal severe weather risk defined for Alabama; just low end 5 percent probabilities for the northwest part of the state tomorrow night.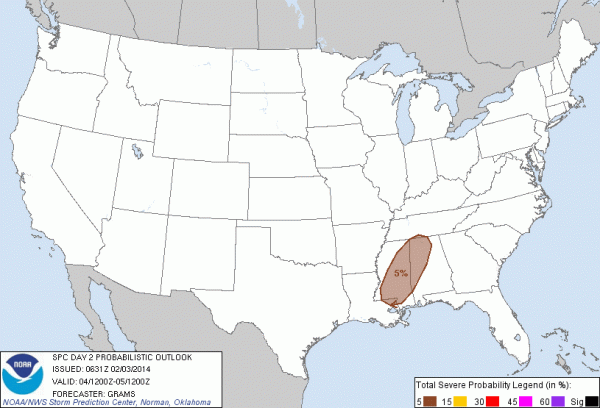 We will monitor trends closely during the day tomorrow, but for now severe weather looks unlikely. A strong thunderstorm is possible, however. Rain amounts of 1/2 to 1 inch are likely.
WEDNESDAY/THURSDAY: These day days look calm, dry, and cool. Expect a high between 47 and 50 degrees with little risk of rain, although clouds will be around at times both days. Coldest morning will come early Thursday with temperatures dropping into the mid to upper 20s.
FRIDAY AND THE WEEKEND: Moisture levels rise Friday, and we will need to mention a chance of showers as another weather system begins to get it's act together west of Alabama. Occasional showers will continue Friday night and Saturday; the high Friday and Saturday will be in the 50s with a cloudy sky.
We should point out there are considerable model differences over the weekend, but no doubt another vigorous weather system will bring a big soaking to the state. The ECMWF (European) brings the heaviest rain through here Saturday night, while the GFS holds it off until Sunday. Both solutions show very little instability, so like the Tuesday's system, severe storms most likely won't be an issue. Rain amounts should be in the 1 to 2 inch range over the weekend.
And, as the rain moves out, there is a chance of wrap-around moisture in the colder air bringing snow flurries to the northern half of the state. The Euro solution has this possibility during the day Sunday; the GFS shows it Sunday night. One way or another, snow flurries in this type situation rarely ever bring any accumulation or travel issues.
We stress in this kind of very active pattern, it will be very hard to provide detailed specifics about the weekend system until we get the mid-week one out of here. Take some time to watch the Weather Xtreme video for the maps, graphics, and details.
MID-MONTH: Global models continue to show a very active, mostly zonal upper air flow across North America through mid-month, meaning frequent rain producing systems for Alabama.
WEATHER BRAINS: Don't forget you can listen to our weekly 90 minute netcast anytime on the web, or on iTunes. This is the show all about weather featuring many familiar voices, including our meteorologists here at ABC 33/40. Promises to be a very interesting show tonight; Bill Murray is live at the American Meteorological Society annual meeting in Atlanta, and we will discuss last week's snow forecast that went wrong. The show begins at 8:30p CT… and you can watch it on "James Spann 24/7" on cable systems around the state, or on the web here.
CONNECT: You can find me on all of the major social networks…
Facebook
Twitter
Google Plus
Instagram
I have a weather program today at Eden Elementary School in Pell City… look for the next Weather Xtreme video here by 4:00 or so this afternoon. Enjoy the day!
Category: Alabama's Weather
James Spann is one of the most recognized and trusted television meteorologists in the industry. He holds the AMS CCM designation and television seals from the AMS and NWA. He is a past winner of the Broadcast Meteorologist of the Year from both professional organizations.