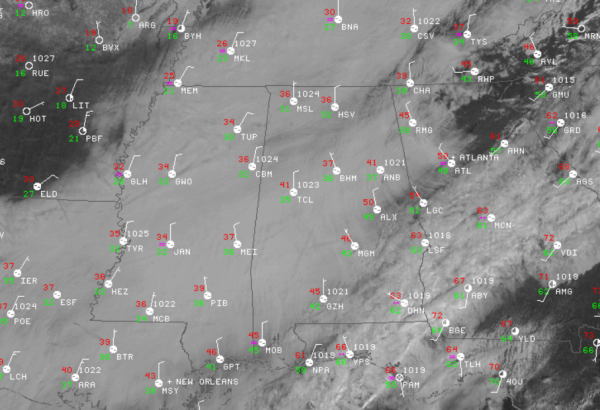 You can definitely feel the change in the air mass behind the front that moved through overnight. We are seeing temperatures  some 30 degrees cooler than they were yesterday. Many areas did see a soaking rain overnight and that rain has since moved out and left in its wake some thick clouds.
The clouds will slow our warming today and our daytime highs will need to be adjusted down a few degrees. Most locations across Central Alabama will see highs in the upper 40s, while locations to the south can expect some 50s.
There are a few breaks in the clouds trying to let some sun shine through across the area. I think through the afternoon we will see a few more peeks of sunshine. Today's cool down will be short-lived. A new storm system will develop over the southern Plains overnight and will pull a warm front back north across the state. We expect to see highs back in the mid to upper 60s tomorrow with a chance of thunderstorms by the evening.
Category: Alabama's Weather
Montgomery Television Meteorologist and long time Contributor on AlabamaWX. Stormchaser. I did not choose Weather, it chose Me. College Football Fanatic.
@Ryan_Stinnet