A bit of an improvement in portions of the West from the drought conditions persisting there, but portions of five states continue to suffer from exceptional drought conditions. Areas in Texas, Oklahoma, Colorado, Nevada, and California remain under exceptional drought conditions. Elsewhere, a vast majority of the Midwest, the central and southern Plains, the Southwest, and areas along the West Coast continue to experience drought conditions.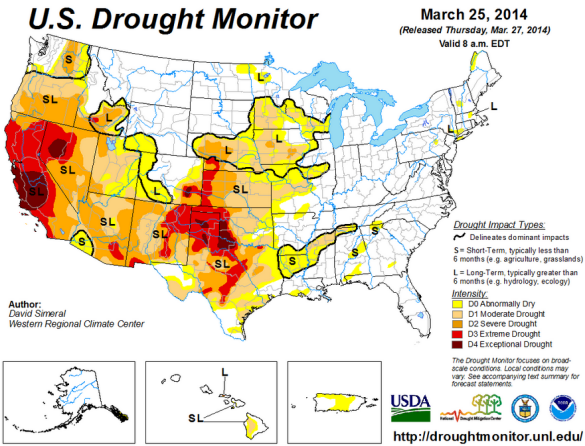 For the state of Alabama conditions have gotten a little worse over the last week. We are now seeing portions of Northwest Alabama experiencing moderate drought conditions. These conditions are affecting locations in Limestone, Lauderdale, Lawrence, Colbert, and Franklin counties. Abnormally dry conditions have expanded across the Tennessee Valley as well and along with the counties listed above, portions of Marion, Morgan, Madison, and Jackson counties have now been included in the abnormally dry conditions.
For East & Central Alabama, there was no change in the abnormally dry conditions as they still include portions of Talladega, Coosa, Tallapoosa, Randolph, Cleburne, Clay, Chilton, Dallas, Autauga, and Elmore counties.
For southern Alabama, abnormally dry conditions persist across the Wiregrass Region, affecting locations in Pike, Crenshaw, Coffee, Geneva, Covington, Escambia, Conecuh and Baldwin counties.
Overall, for the entire state the abnormally dry conditions have increased in the amount of area they cover. Last week it was at 18.48% of the state, this week it grew by 3.3% to 21.78%. Also, the new category of moderate drought covers 3.37% of the state. Hopefully the rainfall we will receive the next few days will help these areas and we will see a reversal of the current trends.
Category: Alabama's Weather
Montgomery Television Meteorologist and long time Contributor on AlabamaWX. Stormchaser. I did not choose Weather, it chose Me. College Football Fanatic.
@Ryan_Stinnet