No change in our forecast for now…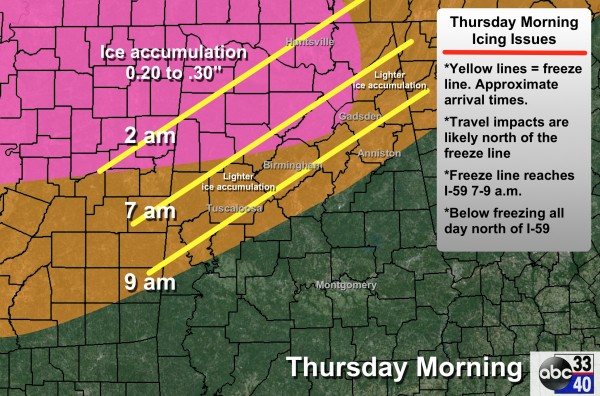 The cold front is blowing through North Alabama…. the temperature at Hamilton has dropped thirty degrees… from a high of 78 to 48 degrees at 6:00 p.m.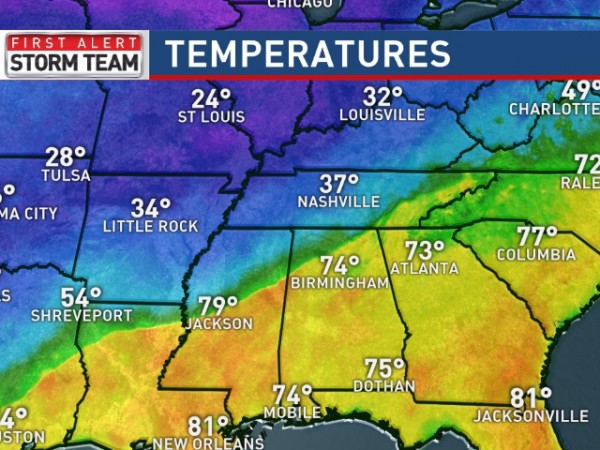 Confidence in icing over Northwest Alabama is high tomorrow; the forecast confidence is lower for the larger cities of Birmingham, Tuscaloosa, Anniston, and Gadsden as they will be close to the southern extent of the ice accumulation.
Computer models don't handle shallow cold air very well (resolution not high enough), so we don't trust the output we are seeing much. Time to simply observe weather to the north and west. The cold air seems to be a bit ahead of schedule, which certainly means there is a chance we will see icy travel as far south as I-20 tomorrow; the freeze line should reach the Birmingham metro in the 7:00 to 9:00 a.m. time frame.
It could be a situation where you have 30 degrees and icy bridges at Lake Tuscaloosa, Gardendale, and Saks… and 34 degrees with just a cold rain at Taylorville, Alabaster, and Oxford. Is is impossible to define the exact location where the freeze line stops tomorrow.
Along and north of the 32 degree line, expect icy travel, and potential for scattered power outages up across Northwest Alabama where ice accumulation is heavier. More later…
ALABAMA POWER IS READY, ARE YOU? Our friends at Alabama Power are monitoring the forecast closely, ready to deploy people and assets to quickly address any outages that might occur. Read a special message from Ike Piggot about their commitment to their customers.
Category: Alabama's Weather
James Spann is one of the most recognized and trusted television meteorologists in the industry. He holds the AMS CCM designation and television seals from the AMS and NWA. He is a past winner of the Broadcast Meteorologist of the Year from both professional organizations.