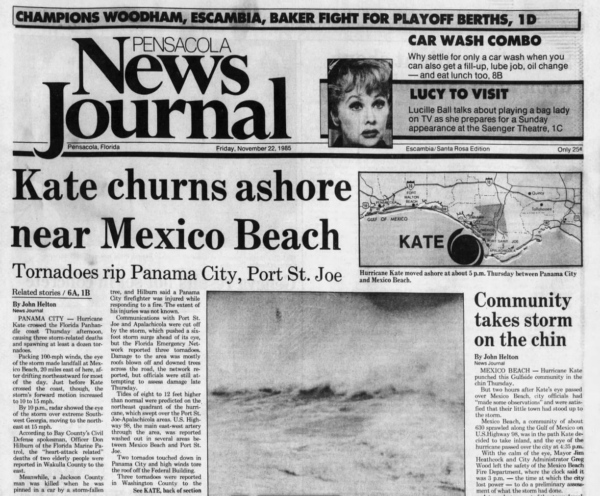 During the evening hours on November 21, 1985, a weak category 2 Hurricane Kate made landfall on the shores of Mexico Beach, Florida, which is just over 30 miles down the Gulf Coast from Panama City Beach.
The setup for Kate started off with a strong subtropical ridge in place over the southern parts of the tropical Atlantic Ocean. The positioning of the ridge kept a polar front well north of the 32nd parallel in the week prior to Kate. A disturbance developed underneath the ridging just northeast of the Virgin Islands while interacting with an upper trough starting on November 13th and into the 14th.
By the time the Hurricane Hunter aircraft reached the disturbance, the system had already developed into Tropical Storm Kate, and conditions improved for even more strengthening as a closed upper low in the trough raced to the southwest. Kate would strengthen into a hurricane as it moved to the west through the southeast Bahamas on the afternoon of the 16th.
Kate crossed over Cuba while maintaining nearly all of her strength, and soon strengthening into a major hurricane as it passed the eastern Gulf of Mexico data buoy on the night of the 19th. A front was approaching from the west, and this caused Kate to curve off to the northwest. The water temperatures were becoming cooler as Kate was moving into the northern Gulf of Mexico, and weakening starting to occur. Southwesterly shear was also helping to weaken Kate back down to a weak category 2 hurricane, with maximum sustained winds of 100 MPH as it made landfall near Mexico Beach on the Florida Panhandle on the evening of 21st.
The front quickly curved Kate back out through the southeastern US and back out over the Atlantic on the 22nd, while weakening and becoming extratropical. At that point, it was the latest known hurricane to hit the US so far north.
All historical information from NOAA's WPC Archives.
Comments
Powered by Facebook Comments
Category: ALL POSTS, Met 101/Weather History
Scott Martin is a meteorologist, graphic artist, musician, husband, and a father. Scott is a member of the National Weather Association and the Central Alabama Chapter of the National Weather Association. Scott is also the co-founder of Racecast Weather, which provides accurate forecasts for many racing series across the USA.