This is a guest essay from a native Alabamian now living in Texas.
——————————————————————-
I didn't sense any danger on April 27 until I tried to pry the Regions Bank door open and noticed the handwritten note – "Closed due to inclement weather."
My mom had called that morning from her job at Children's Hospital to warn me of the storms headed our way from Mississippi and the seriousness of the events ahead of us. I listened, but didn't feel the need to cancel the frozen yogurt date with my future roommate I had set for later that afternoon.
I didn't feel concern during class later that day, or at the late, celebratory lunch at Newk's with my friend Hannah as we acknowledged our last public speaking class had finally come to an end.
But here at the campus branch of Regions Bank, a brief wave of concern hit me when I realized I needed to get serious about the impending weather headed toward us that day.
I canceled the afternoon's roommate date and immediately called my boyfriend, Adam, who didn't answer. He must be napping, I thought.
–
Growing up in Alabama, I was among those that felt fairly comfortable at the beginning of that bright, Tuscaloosa day. I had stayed up many a night in my family's basement back in Birmingham, the neon light from our old, deep-set TV blaring as James Spann walked across the screen in a stark white button down and suspenders. I knew the drill.
Remember sitting in the hallway as kindergarteners, learning the actual tornado drill? Knees up, head down. Concrete cinder blocks against your back.
When the power went out at Adam's Alberta apartment, I got very anxious. I wasn't in my parents' underground basement with our go-to, window-less spot steps away from me.
So when I felt my nervous system kicking into gear, I ran out onto the second floor, wrap-around porch at Arlington Square Apartments and observed the sky, not realizing the tornado James Spann had just spotted in downtown Tuscaloosa was only minutes from where I stood.
Thankfully, I spied a group of students running out of their house below me, headed toward a cellar door around the backside of the old, one-story building. One of them saw me and yelled, "It's behind you!" I called out for Adam and we ran down the steep wooden steps toward our newfound, one-time-use, go-to spot.
I remember Adam trying to lock-up the apartment before we ran to join the others. Today, I find that funny.
–
Five years ago, April 27 began – and went – very differently for each of us. You may have been a student in class when things got serious for you, or listening to James Spann in the comfort of your go-to spot, or working through the storms with only snippets of information about the disaster that rocked our state (and much of the South) that day.
Regardless of your individual, very real experience, I believe we are all bound by the tragedy of it all. No matter if you experienced "real" loss that day, we all had our world as we knew it changed. If only by a little bit.
What I hope and wish for all of us as I reflect on that day is that each of you feel more whole today than you did five years ago. I know for some, especially those experiencing loss of a loved one, that may still seem impossible. And that's okay.
On this poignant anniversary day, I believe it's important to pause and reflect. Remember the moments that are forever penned in our minds. Moments of sadness, shock and fear; with moments of gratefulness, love and hope intermingled.
Being away from Alabama today is very difficult for me. Even though I am no longer a resident of Alabama the Beautiful, I carry the spirit of all of us Alabamians with me always. Being a Crimson Tide fan, I've always felt pride. But, after 4/27/11, I have felt a sense of connection to the state and its residents that I have never felt before. Today, I feel a great need to send my sincerest thanks to those named and nameless that touched mine and Adam's heart that day, and in the fragile time following that somber life event.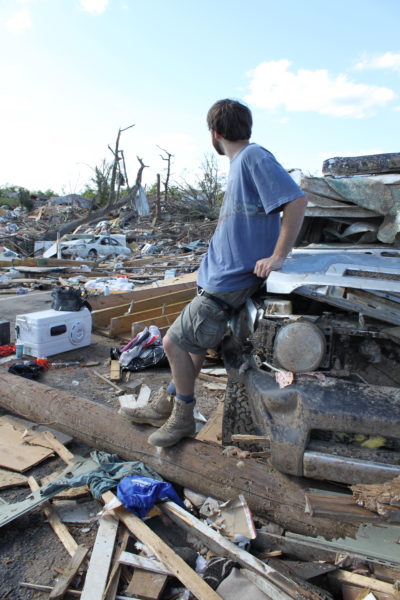 —
I was always taught to send a prompt thank-you note after someone did something nice for me as a child. This one is five years late, so apologies in advance for the belatedness –
Dear Alabama,
I'm writing to thank you – and your courageous residents – for the overwhelming help you sent mine and Adam's way five years ago. Knowing you were going through quite a rough time yourself, the sincere gestures mean the world to us.
I will try to shy away from naming any specific individuals for fear of missing a special someone, but I would like to at least call out the following groups in gratitude:
To Mr. James Spann, you saved both ours and many others' lives five years ago. Words truly cannot express the amount of appreciation we have for you and ABC 33/40 for the in-depth coverage and preparation you gave us. Also, Texas needs you, Mr. Spann. My expectations for meteorologists have been set far too high.
To Adam's neighbors, thank you for inviting us into your go-to spot that terrifying afternoon. You could have easily focused on the safety of yourself and your friends, but you called out to me. You were our heroes that day, and for that I am eternally thankful. I would also like to apologize for not sending this thank-you to each of you sooner.
To the deaf couple I spent most of my post-tornado moments with, thank you for reminding me what matters most in a time when we both needed it the most. I will never forget either of you, or the love you showed me. I'm so glad I was able to see you a few days after the tornado when you ventured back to the spot that forever changed our lives with your family from Florida. I hope you're both doing well. You deserve the world.
To the first responders, you are the true heroes of April 27. I saw so many putting their own lives on the line to save another that day. And I heard of many more in the days following. I am humbled by your acts of sincere love and kindness. Thank you.
To the Crimson White, thank you for covering this important event for our university and town. Two of your best reporters were some of the first people we saw after leaving our disaster area that day, and your coverage of our story helped aide our healing process. Thank you for doing the difficult thing that day and being true journalists when some of you were suffering from loss yourselves.
To The University of Alabama and Tuscaloosa (one in the same, in my heart), thank you for treating each student as family in the days, weeks and months of recovery that year. I would like to specifically call-out the Advertising and Public Relations Department, as well as, the School of Engineering for being our places of refuge in our remaining years at UA. You treated us as normal students and made our previous dreams still a reality for us despite the setbacks felt following such a traumatic event. Thank you also to Mayor Maddox and the leadership at UA for your efforts to pull our town back together as smoothly, and thoughtfully, as possible.
To the volunteers and donors, thank you for sacrificing your time and showing us and many other strangers such generosity. Thanks to UA for setting up the UA Acts of Kindness fund that contributed to Adam's needs not covered by FEMA. Thanks to the out-of-towners that spent their spring break helping piece together our state, too.
To the Prattville couple we never met, thank you for gathering Adam's childhood keepsakes you found scattered around the rubble. I'll never forget the day we drove up to the site and saw the pile neatly gathered and set aside for us to find.
To our families, thank you for the love and support you still give us as we deal with the trauma of April 27. To Adam's family specifically, thank you for providing us a temporary home as we shuffled back and forth with your borrowed cargo van to gather remnants of our things. Thank you also for replacing Adam's FJ Cruiser. Seeing his face lit-up with the replacement of this specific item lost still brings me much joy.
To the 2011-2012 Alabama Football team, I know we get teased for our unwavering obsession with you, but I don't care. I truly believe you gave so many people the hope they were looking for as you soared through an incredible season and breathed life into a town hurting so deeply. I cried when we lost to LSU, and cried when we beat them in the game that counted the most.
I would also like to thank three groups of friends – the friends I abandoned, the friends that helped me piece through life immediately following 4/27/11, and the new friends that support me today. I still don't fully know how I truly was the summer and year after April 27. I was not very aware of myself – I only knew I felt very little pleasure as I grappled with fear, guilt and depression. To my current and future roommates at the time, I apologize for straight-up abandoning you as I clung to Adam for support. I know that was not what you signed-up for and I'm sorry. To the Avanti orientation team at UA that worked with me every day that summer, I'm sorry for being the least-dedicated, emotionally numb team member. I thank you for understanding my need for space, random spouts of neediness and tears, and the low-level anger I felt every day. Thank you specifically to those that helped me in the week Adam was out of town competing with his engineering team at NASA. It's silly to think about it now, but I truly didn't know how to cope with being away from him that week. The day-trip to Six Flags was literally one of the happiest moments of my summer and I thank you for treating me with extra care as I had a mini-panic attack when we almost drove past Alberta on the way home to UA. To my new Austin friends, thank you for the support and encouragement. Thank you for always having an open heart when I rant about random things as I continue to struggle with doubt, anxiety and fear. Thank you especially to my therapist, Priscilla, for helping me be courageous.
Lastly, to my husband Adam, thank you for being my strength in this winding road to recovery. For turning April 27, 2012 into a day of possibility. For taking April 30, 2011 off to ensure we celebrated my birthday, even though you missed meeting the President visiting your apartment.
Roll Tide, War Eagle, etc.
Yours forever,
Jessica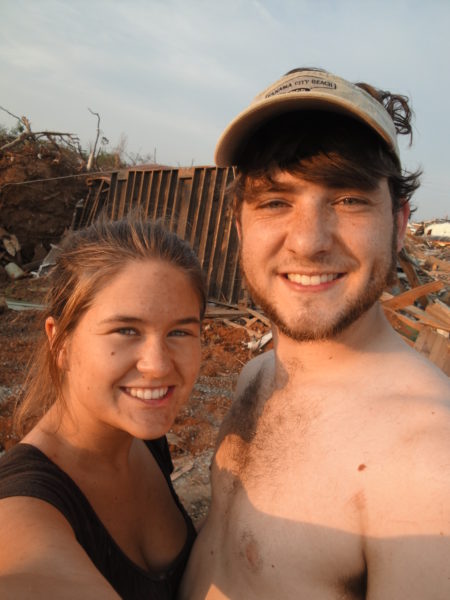 Jessica Melton lives in Austin, Texas and would like to send a special thank you to Taylor Holland and her entire Austin family for the encouragement and support in writing this piece.
Category: Met 101/Weather History
James Spann is one of the most recognized and trusted television meteorologists in the industry. He holds the AMS CCM designation and television seals from the AMS and NWA. He is a past winner of the Broadcast Meteorologist of the Year from both professional organizations.