MUCH TO DISCUSS: This will be the most significant rain event for Alabama since summer, and unfortunately with it comes the risk of strong to severe thunderstorms. This will come in two rounds between now and Wednesday. Take some time to read through this discussion and watch the Weather Xtreme video for all the maps and graphics.
ROUND ONE: Moist air returns to Alabama today with rapidly rising dew points and a gusty south wind thanks to a tightening pressure gradient. A wind advisory is in effect for the northern third of Alabama; south winds will average 15-30 mph this afternoon with higher gusts. This gradient wind alone could bring down a few trees and power lines.
Scattered showers are possible through the day; the high this afternoon will be around 70 degrees for most places.
An organized band of rain and storms will move in from the west tonight. SPC has roughly the western half of the state in the standard "slight risk" of severe weather tonight, with a "marginal risk" over to Anniston and Gadsden…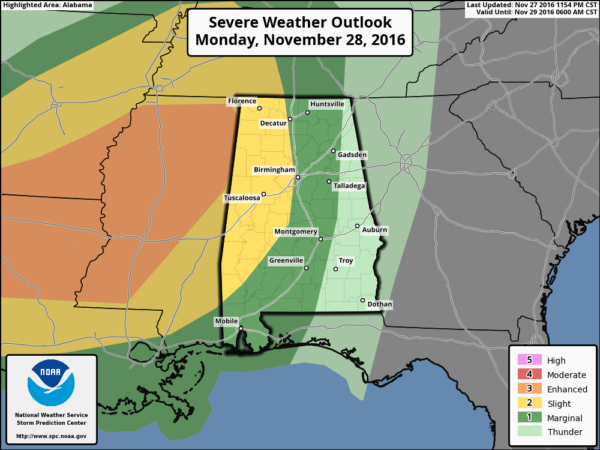 The primary limiting factor for severe weather tonight will be the degree of instability. There is very little instability north of I-20, with moderate amounts for the southern two-thirds of the state. Shear values are very high, however, and there will be good dynamic support with a large scale upper trough to the west.
The primary threat tonight will come from strong, possibly damaging straight line thunderstorm winds and small hail, although a tornado can't be completely ruled out. The main window for the heavier storms will come from 7:00 tonight through 7:00 a.m. tomorrow.
A decent part of the day tomorrow will be rain-free, with the sun out at times, and temperatures rising well into the 70s.
ROUND TWO: This will come tomorrow night into Wednesday morning as an embedded wave in the southwest flow aloft approaches. Instability values will be much higher, with surface dew points well into the 60s, and surface based CAPE values to 1,500 j/kg. SPC has much of the state in the standard "slight risk" of severe storms for this second round…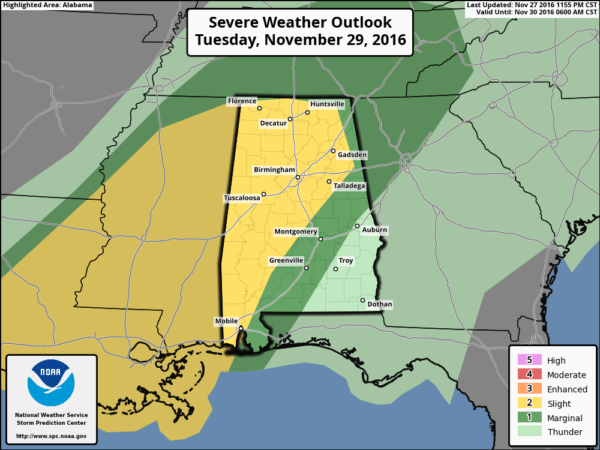 No doubt storms tomorrow night into early Wednesday will be capable of producing strong, possibly damaging straight line winds and hail.
We note the STP (Significant Tornado Parameter) values rise to 2 units or higher over parts of North and West Alabama at midnight tomorrow night, so a few tornadoes are possible as well.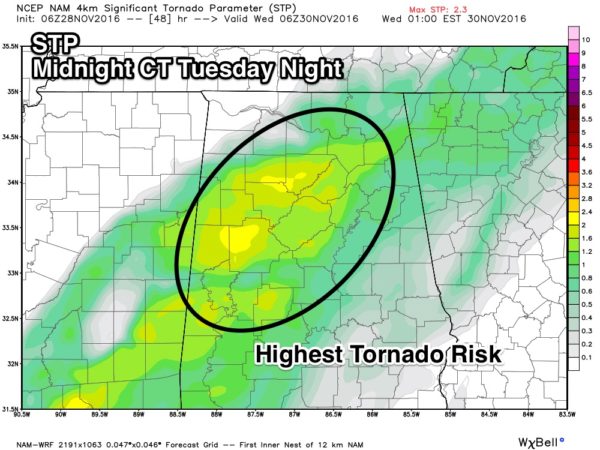 The main window for "round two" will come from 9:00 p.m. Tuesday through 9:00 a.m. Wednesday.
REMEMBER: We haven't had active weather in a long time. Be sure you can hear severe weather watches and warnings if they are needed. And, since this active weather will come during the late night/pre-dawn hours, be sure you have a NOAA Weather Radio properly programmed with a battery backup. A good warning app needs to be on your phone as well, like WeatherRadio by WDT.
And, you might want to review your "action plan" with the family just in case. Your safest place is a small room on the lowest floor, near the center of the house, and away from windows. You don't have to be underground. And, if you live in a mobile home you have to get out, and into a safe place in a site built structure.
If by chance we go go into "wall to wall" severe weather coverage, you can watch us on the ABC 33/40 mobile apps…
ABC 33/40 iOS App
ABC 33/40 Android App
BENEFICIAL RAIN: Rain amounts of 2-4 inches are likely over the northern half of Alabama through Wednesday night, with 1-2 inches for the southern half of the state…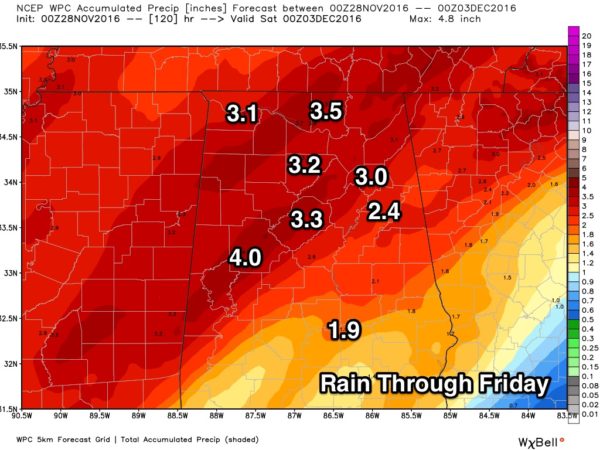 Understand, this won't end the drought, but it sure will help. Most communities need 8 to 12 inches of rain to get back to where they need to be.
FOOTBALL WEATHER: For the 7A Alabama high school football championship game in Auburn (McGill-Toolen Catholic vs. Hoover)… the good news is that it now looks like most of the rain will be gone in time for the 7pm kickoff, just an outside chance of a lingering shower. Temperatures will fall into the 50s during the game. Auburn will be rain-free for the rest of the games Thursday and Friday.
THURSDAY/FRIDAY: These two days will be cool and dry, with ample sunshine along with highs in the 50s and lows in the 30s.
THE ALABAMA WEEKEND: Saturday will remain cool and dry, but rain begins to return Sunday as a warm front lifts northward. Periods of rain, and possibly a few thunderstorms look likely Sunday night and Monday; for now it doesn't look like a severe weather threat. See the Weather Xtreme video for maps, graphics, and more details.
WEATHER BRAINS: Don't forget you can listen to our weekly 90 minute netcast anytime on the web, or on iTunes. This is the show all about weather featuring many familiar voices, including our meteorologists here at ABC 33/40.
CONNECT: You can find me on all of the major social networks…
Facebook
Twitter
Google Plus
Instagram
I will be speaking today at the weekly meeting of the Centre Rotary Club in Cherokee County… look for the next Weather Xtreme video here by 4:00 this afternoon. Enjoy the day!
Category: Alabama's Weather
James Spann is one of the most recognized and trusted television meteorologists in the industry. He holds the AMS CCM designation and television seals from the AMS and NWA. He is a past winner of the Broadcast Meteorologist of the Year from both professional organizations.