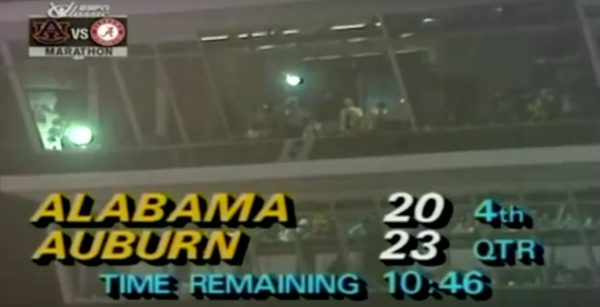 The 1983 Iron Bowl game is one of the greatest in the history of the rivalry. It was played at Legion Field on December 3rd. The game started in beautiful warm sunshine after a stormy night of very heavy rains that caused severe flooding in the Birmingham area. 9.22 inches of rain fell at the National Weather Service Forecast Office, which was on Oxmoor Road at the time. If the amount had been recorded at the Airport, it would have stood as the all-time 24-hour rainfall record for the city (until Hurricane Ivan.)
Severe thunderstorms were in the forecast as the game kicked off in glorious sunshine. A severe weather event was rapidly coming together. The first signs of trouble for fans in the stands came as the Goodyear blimp turned tail and flew east before the start of the second half. The western sky began to darken and an ominous, inky black line of clouds appeared on the horizon.
With just under three minutes to play in the third quarter, Auburn was leading the game 16-14 when Alabama running back Ricky Moore scored on a sensational 57-yard run. Alabama went for two but failed. In the replay, you can see state troopers donning their protective plastic hat covers and Auburn head coach Pat Dye in a rain poncho and a light rain began to pepper the Stadium.
Auburn superstar Bo Jackson answered with a 71-yard touchdown run to make the score 23-20. ABC Commentator Frank Broyles remarked to Keith Jackson that he had never seen a better single performance by a college football player.
When Auburn kicker Al Del Greco approached the ball the ball to kickoff to Alabama, the wind picked up and blew the ball off the tee, causing him to miss the ball, a la Charlie Brown and Lucy. The weather was quickly going downhill.
At the NWS, forecasters were concerned. A line of severe thunderstorms was approaching western Jefferson County and a tornado warning was issued. The radar at Centreville showed a well-defined hook echo heading directly toward the stadium.
Legion Field Public Address announcer Simpson Pepper read the warning over the loudspeakers but the game was not stopped. By ten minutes to go in the game, the rain was coming down in torrents as Auburn tried to control the ball and win the game in the horrible conditions as they clung to a 23-20 lead. The rain began to fall so heavily that you could barely see the field on the cameras.
Fortunately, the storm did not produce a tornado in western Birmingham, or the results would have been catastrophic. But later, the same storm dropped an F3 tornado that heavily damaged the Winn Dixie store at Oxford, killing two people. A total of seven tornadoes touched down across the state that afternoon and evening.
Auburn went on to win the game 23-20.
Comments
Powered by Facebook Comments
Category: ALL POSTS, Met 101/Weather History
Bill Murray is the President of The Weather Factory. He is the site's official weather historian and a weekend forecaster. He also anchors the site's severe weather coverage. Bill Murray is the proud holder of National Weather Association Digital Seal #0001
@wxhistorian