In Alabama, extended cold like the one we are experiencing now tends inevitably to lead to the threat of wintry weather. We had thought there might be problems at the end of the week, but it now appears that we will deal some minor wintry weather issues tonight, especially in areas to the north of Birmingham.
Strong, cold high pressure over the northern Plains (1044 millibars) will continue to nose southeastward into the Great Lakes over the next 36 hours. This will bring a reinforcing shot of cold, dry air to North Alabama overnight tonight.
Meanwhile. a weak surface low is near Houston. This low will track east and southeastward over the northern Gulf of Mexico. Moisture will spread eastward across southern Louisiana, southern Mississippi and the southern half of Alabama through early Wednesday morning as the low tracks to the south of the Alabama coast.
The 3km NAM seems to have the best handle on the evolution of the system, so I will use it to graphically show what may unfold.
Light rain will begin to reach southwestern sections of the area by 8-9 p.m. CST tonight, in places like Sumter, Greene and Hale Counties. Temperatures will be warm enough for it to fall as rain, although there could be a few sleet pellets mixed in especially at the beginning.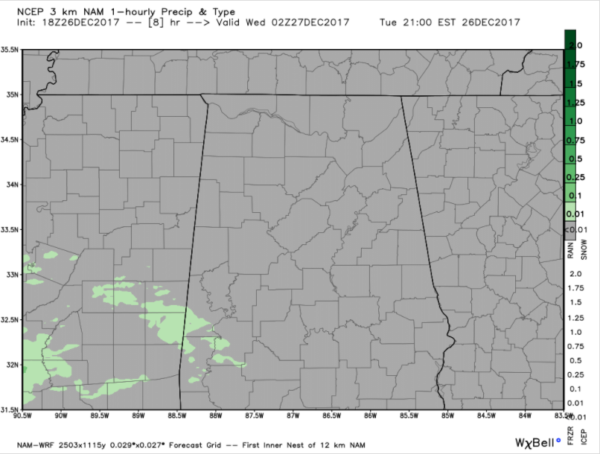 By 3 a.m., temperatures will cool enough over North Central Mississippi and North/North Central Alabama for widespread sleet (orange) and a little freezing rain (pink) to break out from Grenada to Aberdeen in Mississippi into Lamar and Fayette Counties in West Central Alabama.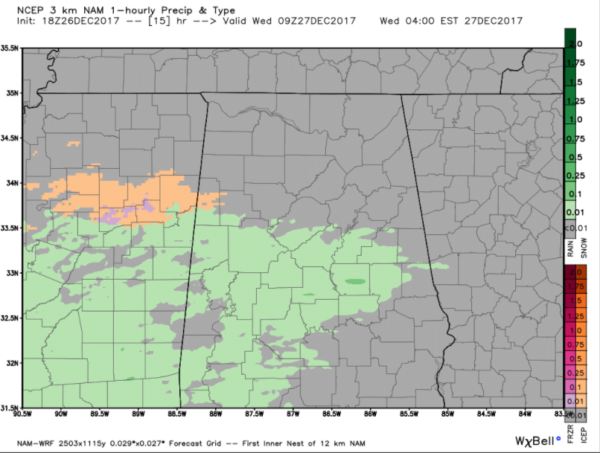 By 5 a.m., scattered patches of sleet and light freezing rain will impact areas from Lamar, Fayette, Marion, Winston, Cullman, Walker, northern Jefferson and Blount Counties. It will spread into parts of northern St. Clair and Etowah Counties as well.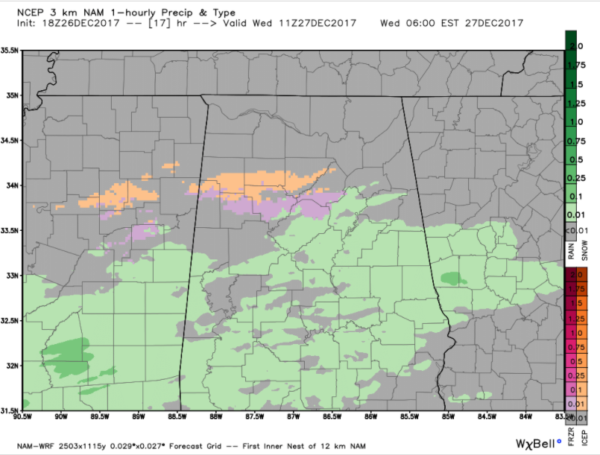 By 7 a.m., a mix of light freezing rain and sleet could be falling over the northern parts of the Birmingham Metro area, including Walker, northern Tuscaloosa, southern Cullman, Blount and northern St. Clair Counties. The wintry mix should remain north of I-20.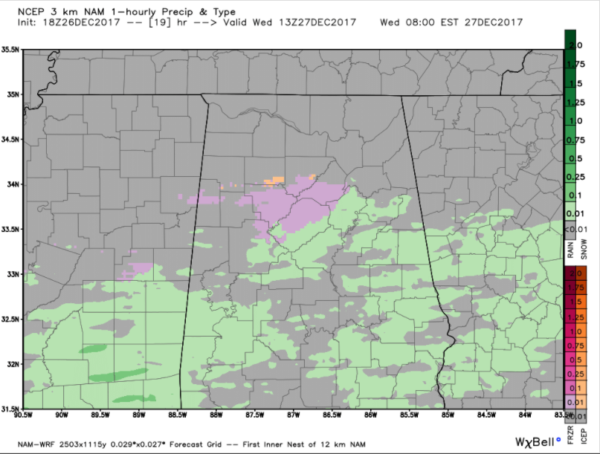 The precipitation will be light, but there will be icy spots, especially on bridges. The good news is that schools are on their Christmas Break, but if you have to travel anywhere after midnight tonight through late morning tomorrow, check road conditions before starting out and consider postponing your travel until after 10 a.m., when temperatures should go above freezing.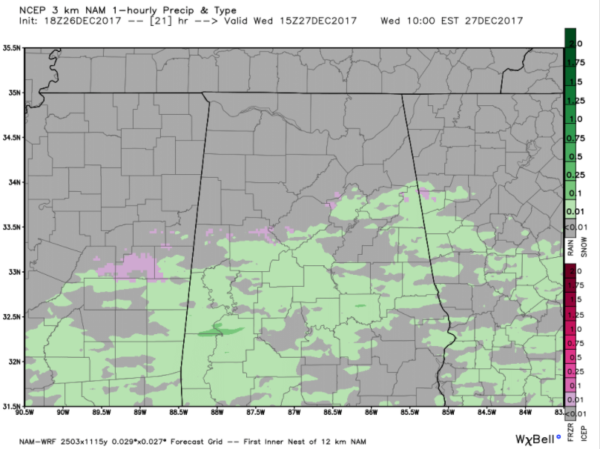 This is a developing weather situation. The NWS is holding off for now on issuing any advisories, but those could come later tonight.
We will have frequent updates throughout the night and tomorrow morning with the latest data and observations.
Comments
Powered by Facebook Comments
Category: Alabama's Weather, ALL POSTS
Bill Murray is the President of The Weather Factory. He is the site's official weather historian and a weekend forecaster. He also anchors the site's severe weather coverage. Bill Murray is the proud holder of National Weather Association Digital Seal #0001
@wxhistorian