Our New Year's Eve winter weather event and the Arctic blast that will follow it have prompted National Weather Service Offices around the Southeast to issue a variety of watches and advisories.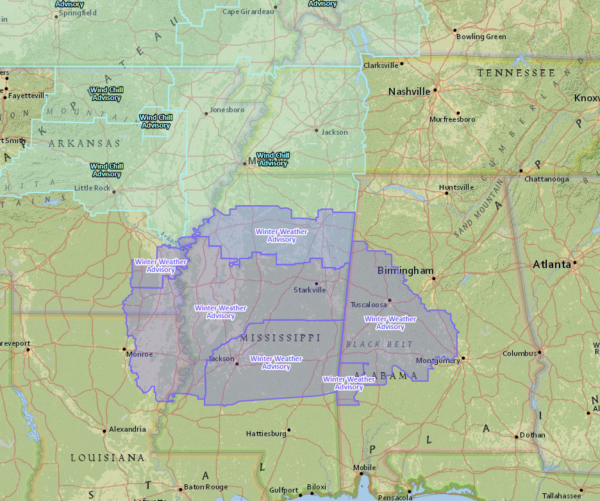 Of the most urgent importance are the winter weather advisories posted by National Weather Service Offices in Birmingham, Jackson, Little Rock and Mobile. Light freezing rain and sleet is expected to develop tonight around midnight over southeastern Arkansas and North Central Mississippi and develop southward as much colder air moves in from the north.
It will move into northeastern Louisiana and the I-20 Corridor across Mississippi by daybreak Sunday, pushing into west Alabama just before sunrise Sunday. A mix of wintry precipitation including freezing rain, sleet and light rain will last through the morning hours into the early afternoon, pushing into areas south of I-20 in Mississippi and Choctaw County in Alabama.
The precipitation will taper off during the afternoon.
IMPACTS
The freezing rain will create a glaze of ice on exposed objects that will result in very slippery conditions on sidewalks, roads and bridges. The accumulations are expected to be less than one-tenth of an inch. At one-tenth of an inch, trees and power lines are affected.
This will definitely affect football travel for Alabama fans heading to New Orleans on Sunday for the Sugar Bowl. Roads and bridges will ice in the travel route along I-59 between Tuscaloosa and Hattiesburg. ACTION: leave before midnight tonight if possible. Auburn fans should not be impacted as freezing precipitation is not expected to affect I-20 between Birmingham and Atlanta or I-85 between Auburn and Atlanta.
AFFECTED AREA: Counties in the winter weather advisory include: Autauga, Bibb, Chilton, Dallas, Fayette, Greene, Hale, Lamar, Marengo, Perry, Pickens, Sumter and Tuscaloosa.
TIMING: Starting as early as 3 a.m. Sunday morning and lasting until 6 p.m. Sunday evening. Icing impacts on bridges could last through the evening Sunday night however, and the advisory may have to be extended in time.
The National Weather Service in Birmingham and has issued a hard freeze watch for all of Central Alabama that goes into effect Sunday night and lasts until Wednesday morning. A prolonged period of very cold temperatures is expected to move into Alabama Sunday afternoon.
A few highlights, or low lights, should I say include:
…Lows in the lower to upper teens for several mornings
…Single digits likely on Tuesday and Wednesday morning, especially across North Central Alabama.
The watch might have to extended out in time to include the rest of the week as well.
IMPACTS
Prolonged sub freezing and hard freeze conditions can result in burst water pipes. Sensitive vegetation can be harmed. People and animals can develop hypothermia, a life threatening condition.
REMEMBER THE FOUR P'S
People, pets, plants and pipes.
Finally, the NWS has issued wind chill advisories for the Arklamiss, where wind chills are expected to reach zero to minus 10 degrees tonight through Monday morning. Our wind chills in Central Alabama are expected to be in the single digits Sunday night and Monday morning. Across North Alabama, they are expected to run 0F to -10F Sunday night and Monday morning. The NWS in Huntsville will likely issue a wind chill advisory for their counties later today.
Comments
Powered by Facebook Comments
Category: Alabama's Weather, ALL POSTS
Bill Murray is the President of The Weather Factory. He is the site's official weather historian and a weekend forecaster. He also anchors the site's severe weather coverage. Bill Murray is the proud holder of National Weather Association Digital Seal #0001
@wxhistorian