Meteorologists never sleep well when the weather forecast features the potential for some wintry mix across portions of our area. No one wants to miss a forecast! But we have some reasonably good news this morning in that the weather radar is relatively quiet. Colder air has lagged a little remaining slightly further north, and the surface low pressure in the Gulf of Mexico is remaining weak.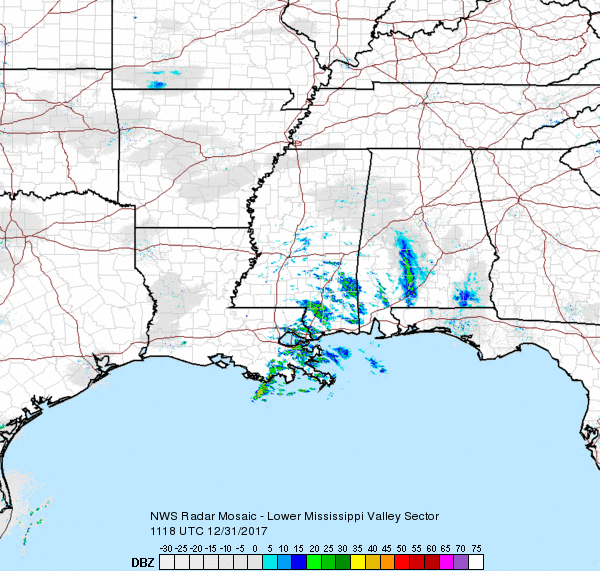 With that said, the NWS has opted to maintain the winter weather advisory for portions of West Central and Central Alabama at this writing. The main issue, of course, is that it takes so little freezing rain to create a problem. So if you must travel in the advisory area, be sure to allow some extra time and be cautious when approaching bridges or elevated roadways if even a small amount of precipitation is falling. It would not surprise me to see the advisory modified or cancelled before it's expiration time at 6 pm, however, a report of freezing rain near Columbus, MS, AFB, signals caution for jumping too quickly on any action. Meanwhile, cold continued to sag southward and it looks like the highs today will not climb much with most areas in Central Alabama in the middle and upper 30s.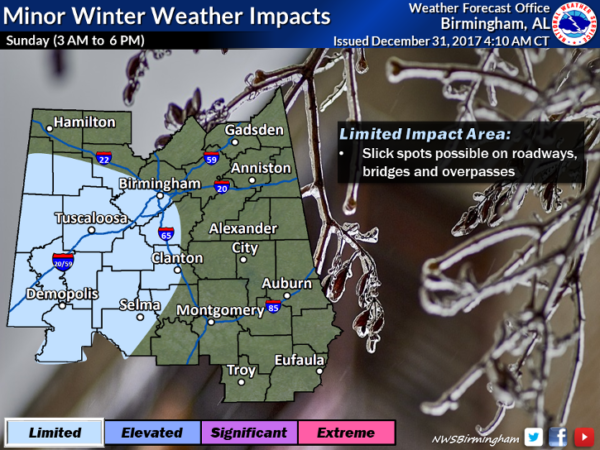 The pattern for the next 6 days through Saturday keeps us in this deep trough over the eastern two-thirds of the state, and we just cannot seem to shake lose from it. So 2018 is going to begin on a deeply frigid note as we see a series of upper air disturbances that maintain and reinforce the cold weather. The NWS in Birmingham has now issued a hard freeze warning through noon Tuesday follow by a hard freeze watch from Tuesday afternoon through Thursday morning. A hard freeze warning means very cold temperatures are imminent or highly likely with extended periods with temperatures below 27 degrees. These conditions could be hazardous to property, pets, and plants. Be sure to take precautions with any exposed pipes, and the extended cold can be life threatening to elderly people, so be sure to check on older friends and relatives during the week ahead.
Our temperatures will be on a roller coaster as you can see with the graphic at the very bottom. Highs will be primarily in the 30s with lows primarily in the teens. The ups and downs are due to the various disturbances riding through the broad trough and bringing new shots of cold air as strong surface high pressure systems settle into the Central US.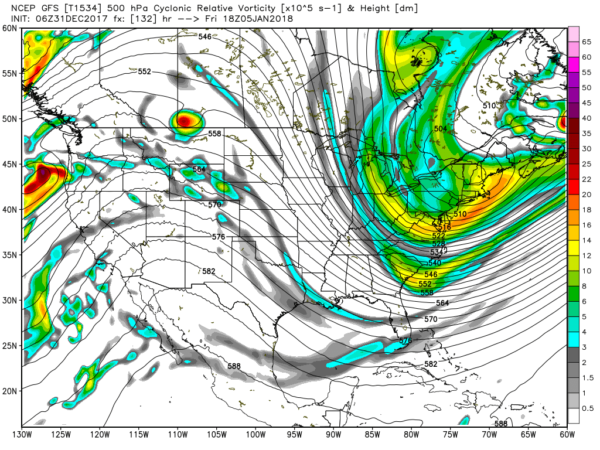 But don't despair because there is a glimmer of hope for at least one warmer day next Sunday. This verges on voodoo country, so we may want to dampen our enthusiasm, but the GFS is projecting a weak ridge next Sunday with the potential for temperatures to climb well into the 40s. But this relief from the cold is not expected to last long as a new trough over the eastern US is forecast to develop by Monday, January 8th. It's then another week of temperatures doing the roller coaster thing as we see a parade of reinforcing shots of cold air putting us back into another extended round of cold weather. Perhaps our only consolation is that it should help to kill off some of the bugs.
Both Auburn and Alabama will be playing inside enclosed stadiums, so there is no worry about the weather during the games. But getting there and home may see some issues. For those headed to Atlanta for the Peach Bowl with Auburn facing the UCF Knights with an 11:45 am CST kickoff, it looks like travel will be just fine. New Year's Eve will be cold with a high of only 39, and game day will be even colder with a high of only 34.
For the Sugar Bowl in New Orleans where Alabama and Clemson face-off at 7:45 pm CST, if your plans call for travel during the day Sunday, you'll want to add some extra time to your trip to account for the impacts of slick spots on bridges and overpasses in West Central Alabama and Southeast Mississippi. There will be a chance for rain in New Orleans for New Year's Eve with temperatures falling into the middle 40s. New Year's Day should also see sunshine with a high around 38.
Beach Forecast: Click here to see the AlabamaWx Beach Forecast Center page. The Beach Forecast is partially underwritten by the support of Brett/Robinson Vacation Rentals in Gulf Shores and Orange Beach. Click here to see Brett/Robinson's Hot Deals now!
WeatherBrains: Don't forget you can listen to our weekly 90 minute netcast anytime on the web, or on iTunes. This is the show all about weather featuring many familiar voices, including our meteorologists here at ABC 33/40.
You can catch the latest forecast this evening on ABC 3340 News at 5 and 10 pm. I will be filling in for Charles Daniel. James Spann returns from vacation on New Year's Day, so he will have the next edition of the Weather Xtreme Video posted here by 7 am or so. Thanks so much for tuning into the blog. I hope you have a great day, be mindful of the extended cold, and Godspeed.
-Brian-
Comments
Powered by Facebook Comments
Category: Alabama's Weather, ALL POSTS, Weather Xtreme Videos
Brian Peters is one of the television meteorologists at ABC3340 in Birmingham and a retired NWS Warning Coordination Meteorologist. He handles the weekend Weather Xtreme Videos and forecast discussion and is the Webmaster for the popular WeatherBrains podcast.