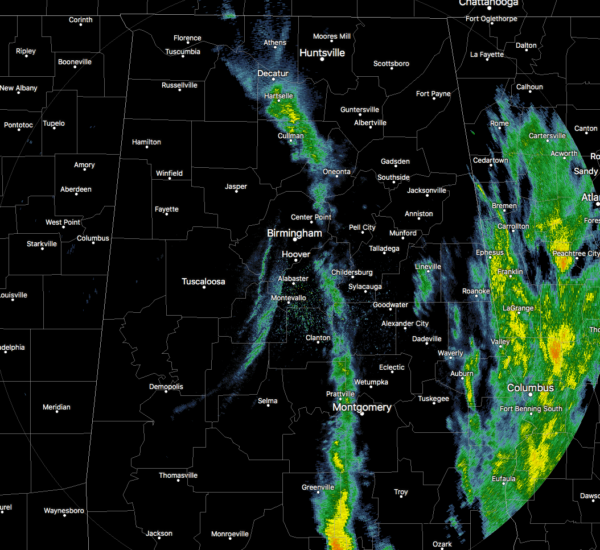 A broken line of showers stretches from north to south through the middle of the state right along the cold front. All of this precipitation is rain, and for all of Central Alabama, it will remain as rain until it pushes out of state.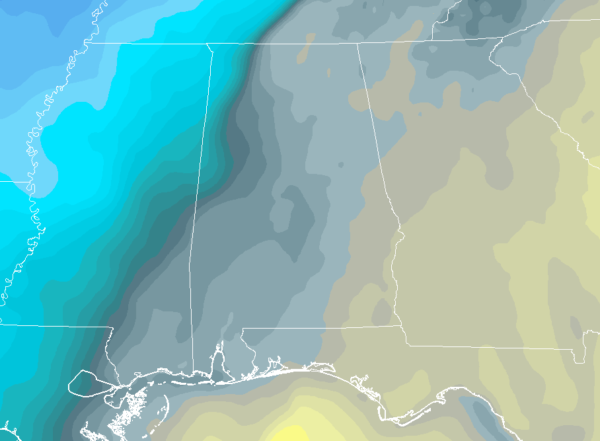 By looking at this map you can see where the colder temperatures are at this point. Temperatures are currently ranging from the mid-30s behind the front to the upper 50s out ahead of the front. Muscle Shoals was at 36ºF and Haleyville was already down to 34ºF. A big difference in temperature in a very short space can be seen in North Alabama as the temperature at the Huntsville International Airport has dropped to 42ºF, while it was 57ºF just a few miles over at the airfield at Redstone Arsenal.
There is still plenty of moisture back in northern Mississippi that appears to be mostly snowfall on the radar, with a mix of sleet and snow falling back in the southwestern parts of Tennessee and into the extreme northern parts of Mississippi. This activity is slowly pushing eastward and will eventually move into the northern parts of Alabama. Still, the main threat for any icing issues will be the northwest corner of the state and counties closest to the Tennessee state line. We could see some light sleet or snow flurries as far south as Birmingham throughout the day, but no accumulations of any wintry precipitation is expected south of the Tennessee River.
Comments
Powered by Facebook Comments
Category: Alabama's Weather, ALL POSTS
Scott Martin is a meteorologist, graphic artist, musician, husband, and a father. Scott is a member of the National Weather Association and the Central Alabama Chapter of the National Weather Association. Scott is also the co-founder of Racecast Weather, which provides accurate forecasts for many racing series across the USA.