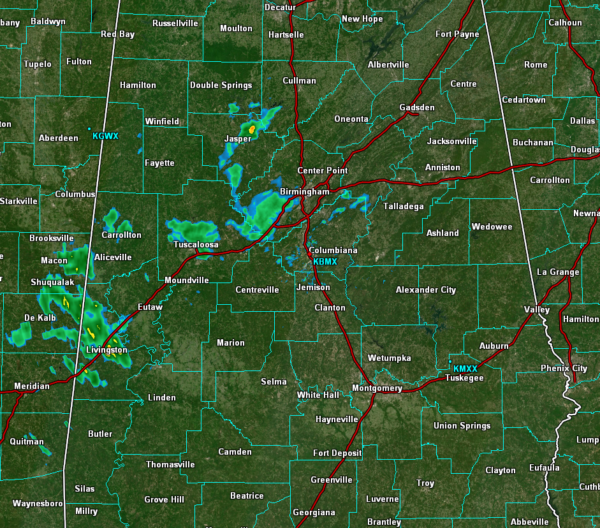 RADAR CHECK AT 12:18 PM
We have a few scattered showers showing up on radar over the western parts of the area, mainly affecting parts of Walker, Tuscaloosa, Pickens, Sumter, and Jefferson counties. Light showers will be in the Birmingham area by the time this post is published. All of these showers are moving to the northeast pretty quickly around 40 MPH. Where it is not raining at this point, skies are generally cloudy.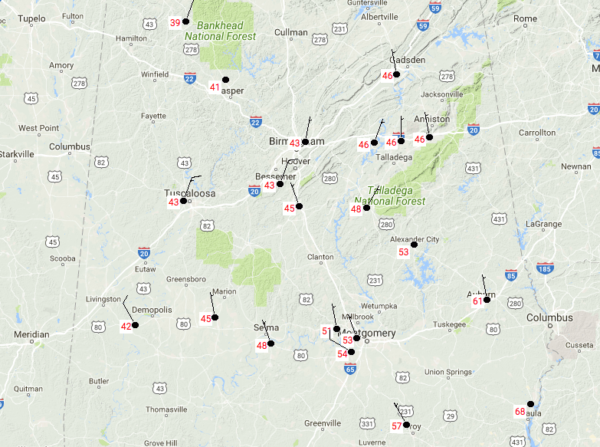 We have a wide range of temperatures throughout Central Alabama as well, with the upper 30s in the northwest to the upper 60s in the southeast. Birmingham was at 43 degrees, while it was only 39 degrees up in Haleyville. Much warmer in the southeast where it is 68 degrees in Eufaula and 61 degrees in Auburn.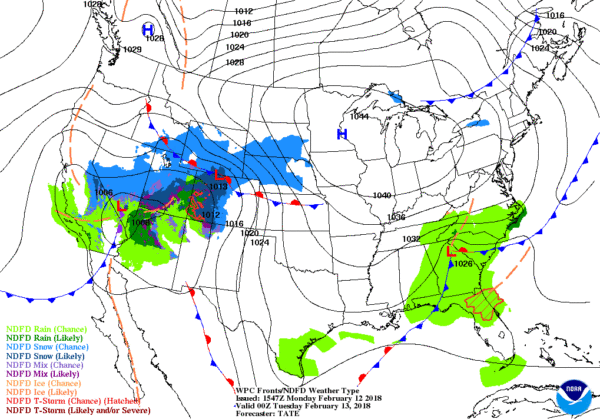 FOR THE REST OF THE DAY
We'll continue to have generally cloudy skies throughout the remainder of the afternoon hours, and there will be a few scattered showers moving through. The highest chances of seeing rain will be in the west-central and southwestern parts of the area, while the rest of Central Alabama will have a small risk of a scattered shower or two. Afternoon highs will top out in the upper 40s to the northwest to the upper 60s in the southeast. For tonight, much of the rain chances diminish except for the east and southeastern parts of the area, as a small risk of scattered showers will be possible. Lows tonight will be in the upper 30s in the northwest to the upper 50s in the southeast.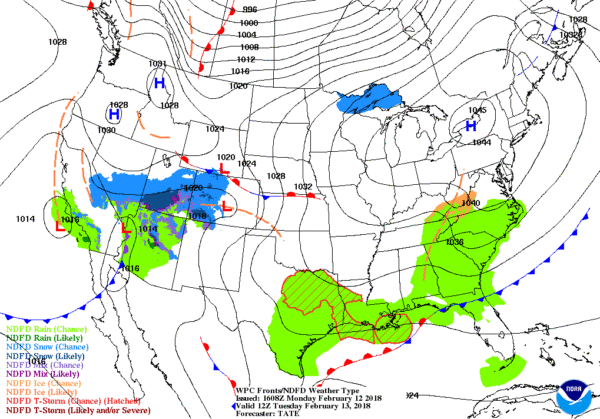 TOMORROW'S WEATHER
We'll continue to see mostly cloudy skies throughout Central Alabama, and there will also continue to be a very small risk for a few light rain showers over the eastern half of the area. Afternoon highs will be much warmer, topping out in the lower 60s to the lower 70s. Rain chances diminish for a little while tomorrow evening, but a small risk of showers move back in during the late night and the pre-dawn hours on Wednesday. Overnight lows will be in the lower to mid-50s.
Comments
Powered by Facebook Comments
Category: Alabama's Weather, ALL POSTS
Scott Martin is a meteorologist, graphic artist, musician, husband, and a father. Scott is a member of the National Weather Association and the Central Alabama Chapter of the National Weather Association. Scott is also the co-founder of Racecast Weather, which provides accurate forecasts for many racing series across the USA.