Conditions Across Central Alabama At 1:40 PM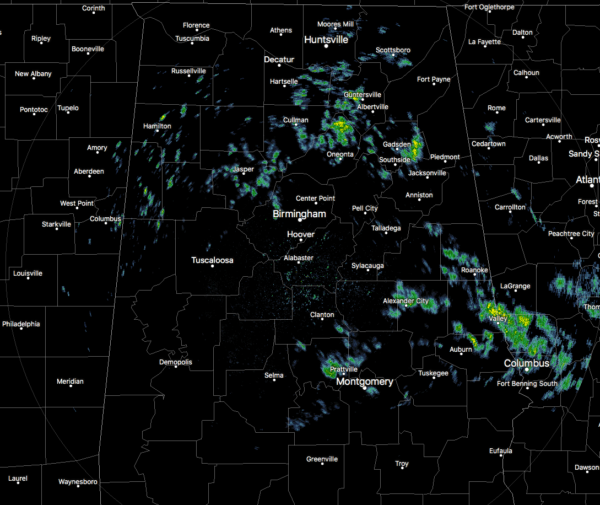 We are continuing to see scattered light showers out there over parts of Central Alabama as we have passed the midday hour on your Monday. Temperatures are currently ranging from 54 degrees at Cullman to 73 degrees at Selma. Birmingham was sitting at 66 degrees.
More Showers & A Few Rumbles Of Thunder Possible Tonight
We'll continue to have scattered showers to move across much of Central Alabama through the remainder of the afternoon hours, but we may have a short window of rain-free conditions during the evening. The latest HRRR solution is painting a window from roughly 5PM-7PM before heavier rain and a few embedded thunderstorms move into the western parts of the area from Mississippi. The activity will weaken some as it moves deeper into the area, and most of the coverage will shift to the southern-half of the area by sunrise on Tuesday. Today's highs will top out in the lower 60s to the lower 70s from north to south, with mid-40s to the upper 50s for the lows.
Tuesday Starts with Rain But Ends With Sunshine
We'll start off with showers and a few embedded claps of thunder across much of Central Alabama at daybreak, but those will make their way out of the area by the early afternoon hours on Tuesday, and skies are expected to clear pretty quickly once that happens. Rain could be out of the Birmingham area as early as 9AM-10AM, and have mostly clear skies by noon. The cooler air will be delayed a little bit from the passage of the cold front, and afternoon highs will still make it into the lower to mid-60s. The cooler air starts to move in for the evening hours, and lows will dip into the mid-30s to the lower 40s under mainly clear skies.
Beach Forecast Center
Is it warm or cold at the beach today? Will it rain in two days? Get the latest forecast for the beaches from Fort Morgan to Panama City on our Beach Forecast Center page. There, you can select the forecast of the region that you are interested in.
WeatherBrains
Don't forget you can listen to our weekly 90 minute netcast anytime on the web at WeatherBrains.com or on iTunes. This is the show all about weather featuring many familiar voices, including the meteorologists at ABC 33/40.
E-Forecast
Get the AlabamaWx Weather Blog's Seven-Day Forecast delivered directly to your inbox by email twice daily. It is the most detailed weather forecast available in Central Alabama. Subscribe here… It's free!
Advertise With Us
Don't miss out! We have enjoyed nearly 3.3 MILLION page views on AlabamaWx.com since the start of 2018. We can customize a creative, flexible and affordable package that will suit your organization's needs. Contact Bill Murray at (205) 687-0782.
On This Day In Weather History
1989 – Thunderstorms produced severe weather in the southeastern U.S. A strong (F-2) tornado killed one person and injured six others in Heard County GA. A strong (F-3) tornado injured 23 persons and caused more than five million dollars damage around Grantville GA.
Comments
Powered by Facebook Comments
Category: Alabama's Weather, ALL POSTS
Scott Martin is a meteorologist, graphic artist, musician, husband, and a father. Scott is a member of the National Weather Association and the Central Alabama Chapter of the National Weather Association. Scott is also the co-founder of Racecast Weather, which provides accurate forecasts for many racing series across the USA.