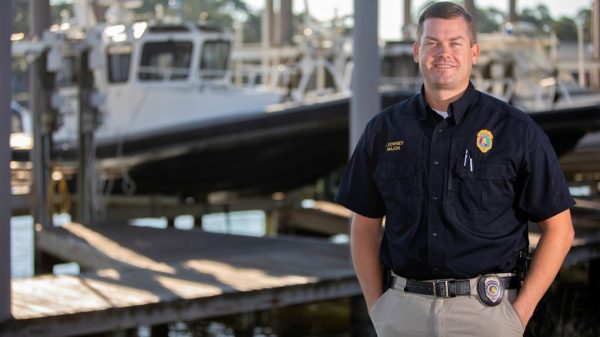 By University of South Alabama
By Maj. Jason Downey's best recollection, he was about 5 years old when his two grandfathers began taking him to the woods and waters of Alabama to fish, ski and hunt.
As natural as Alabama's outdoors felt to him growing up, however, it wasn't until he found himself on a ride-along with a lieutenant for the Marine Resources Division of the Alabama Department of Conservation and Natural Resources that he realized with all certainty exactly what he wanted to do with his career.
"I fell in love," he said. "This is what I want to do."
Sixteen years after landing his first job with the Alabama Department of Conservation and Natural Resources, Downey has been named chief enforcement officer for its Marine Resources Division.
A 2002 University of South Alabama graduate, Downey says leading the enforcement of state laws that deal with Alabama's waterways has only increased his conviction that conservation is essential.
"Everything we do is for the public to be able to continue to enjoy all the wonderful natural resources Alabama has to offer," he said. "I'd like people to think about how great it is and how it would be if we did not have it."
To read the full article, please visit the Alabama NewsCenter website.
Category: ALL POSTS, Partner News Stories