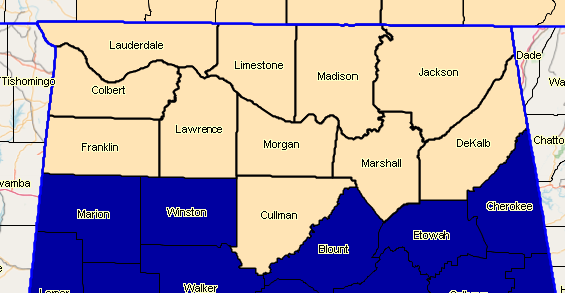 …Significant Weather Advisory for Very Cold Air moving into north
central Alabama, northeast Alabama, northwest Alabama and southern
middle Tennessee…
A multi-day widespread hard freeze event is expected later this week.
Colder air moves into the area tonight but the combination of winds
and clouds should keep temperatures above hard freeze criteria. The
arrival of the cold air after the rainfall on Sunday could result in
patchy black ice. However, the breezy winds overnight and drier air
will help to evaporate much of the lingering moisture on the road
surfaces.
The coldest air since early January arrives Monday night and
continues through Thursday morning with lows in the low to mid 20s.
Wind chill values in the teens to single digits are also possible
each morning. The mild conditions experienced for much of February
has resulted in an early start to the growing season. This stretch
of cold temperatures could damage or kill any vegetation that has
already started to bloom. Additional damage is possible to any
exposed outdoor pipes. Make sure children are dressed appropriately
each morning and take care of your outdoor pets.
Stay tuned to NOAA Weather Radio, or a favorite local media outlet,
for further statements or updates from the National Weather Service
in Huntsville.
Category: ALL POSTS