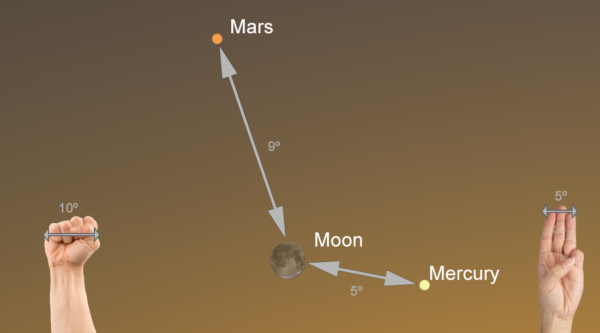 If you've never seen Mercury before Mars can lend a helping hand Tuesday evening June 4. After sunset, look low on the western horizon. As the glow of setting sunset fades, Mars will appear 9º above the waxing crescent Moon, just 3% full. Just 3º to the right, you'll find Mercury shining brightly.
These angular measurements in degrees are easy eyeball using your outstretched hand.  It works just the same for little astronomers too.  Your fist measures about 10 degrees and three fingers measure about 5º.
Category: ALL POSTS, Spacey Stuff
Tony Rice is a NASA/JPL Solar System Ambassador and the voice and brains behinds the weekly Astronomy Report on the WeatherBrains podcast. He grew up in Southern California where he watched the Space Shuttles being build and landed nearby and was hooked. Tony brings weather and space together to communicate the excitement of space exploration and promote a greater appreciation for Earth sciences.