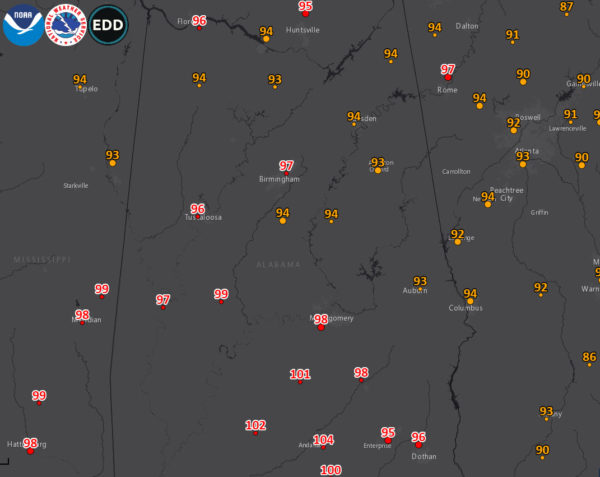 Saturday was a hot one across Central Alabama. Some of the sizzling highs included 97F at Birmingham, 96F at Tuscaloosa, 94F at Calera, Haleyville, Decatur, Gadsden and Talladega, and 93F at Cullman, Anniston, and Auburn. It was 98F at Montgomery, 99F at Marion, 101F at Greenville, 102F at Evergreen and an amazing 104F at Andalusia. The record high for Saturday at Birmingham was 102F back in the very hot summer of 1977. Today won't be as hot, thanks to a slow-moving upper-level disturbance that will be parading across the area, bringing increased chances for showers and storms. Highs will top out in the upper 80s and lower 90s today, with increased cloudiness and a higher concentration of showers and storms. The chance that you will see rain in your backyard is about 50-50. Rainfall amounts will run between one-tenth and one-half inch, except in heavier storms.
NEW WORK WEEK: After the holiday-shortened week that was last week, things will return to normal with another ridge building over the area in the wake of the passing upper disturbance. Showers and storms will thin out again Monday, with high temperatures once again moseying up into the lower 90s area wide. Tuesday promises to be mostly dry and hot again, with only isolated afternoon and evening storms. Highs will edge toward the middle 90s. Wednesday and Thursday promise more of the same, with daily doses of afternoon and evening showers and storms and highs in the 90s. Heat index values all through the week will be flirting with 100F or higher, so take it easy out there. After all, it is July in Alabama.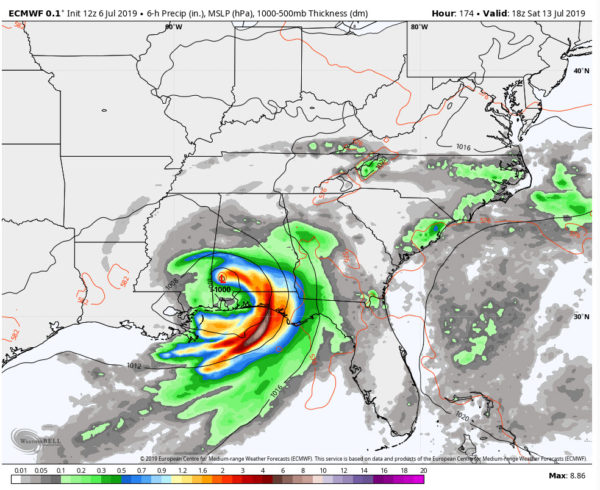 TROPICAL TROUBLE? The European has been hanging its hat lately on the possibility of tropical development in the northeastern Gulf of Mexico by mid to late week. The source of the potential mischief is the upper-level disturbance that is cruising overhead today. This feature may drop into the northeastern Gulf and form a surface low by late Wednesday. With warm water temperatures and low shear, the low could take on tropical characteristics and come back westward across the northern Gulf as a tropical depression. It could even become a weak tropical storm given enough time and proper trajectory across the warm waters of the Gulf. It could affect Louisiana, it could affect Alabama and Northwest Florida, it could affect no one as it might not develop into anything at all.
IF IT DOES come our way, it could mean increased rain chances late Friday through Saturday for much of Alabama. A track to near Mobile and up into Mississippi could put us on the wet side, with up to 4 inches west of I-65 and more to the east. A track further west could be drier, and a track further east could shut us out completely. No track at all just means more of the same, hot and humid with scattered afternoon and evening storms. You know the drill.
VOODOO COUNTRY: The GFS actually depicts another mischievous low across the northern Gulf on or around the end of the period, out about the 21st. It's hard to tell if this is a possibility or not for now, but again could be something interesting to watch.
GULF COAST WEATHER: Meanwhile. Figuring out the weather along the beautiful beaches of Alabama and Northwest Florida will be dependent on the potential tropical cyclone. For now, hot and humid, with scattered mainly late morning through afternoon storms will be the forecast into Tuesday. Things after that will hinge on the potential system in the Gulf. At least it may cool off a bit later this week. Heat index values will be running above 105F again today, tomorrow and Tuesday. The Gulf could get pretty rough later this week and extreme rip current risks may develop, so be alert if you are at the coast this week.
Click here to see the Beach Forecast Center page.
WEATHERBRAINS: This week, the panel will entertain scientists talking about mobile home populations and tornadoes. Check out the show at www.WeatherBrains.com. You can also subscribe on iTunes. You can watch the show live at live.bigbrainsmedia.com You will be able to see the show on the James Spann 24×7 weather channel on cable or directly over the air on the dot 2 feed.
ON THIS DATE IN 1984: A 90-foot paddlewheel excursion boat, the S.S. Scitanic, carrying employees of the SCI Corporation on an outing capsized during a severe thunderstorm on the Tennessee River near Huntsville killing 11. The disaster was caused by a microburst. Microbursts were usually associated with airplane crashes, but they can overturn boats also. Follow my weather history tweets on Twitter. I am @wxhistorian at Twitter.com.

Category: Alabama's Weather, ALL POSTS, Weather Xtreme Videos
Bill Murray is the President of The Weather Factory. He is the site's official weather historian and a weekend forecaster. He also anchors the site's severe weather coverage. Bill Murray is the proud holder of National Weather Association Digital Seal #0001
@wxhistorian