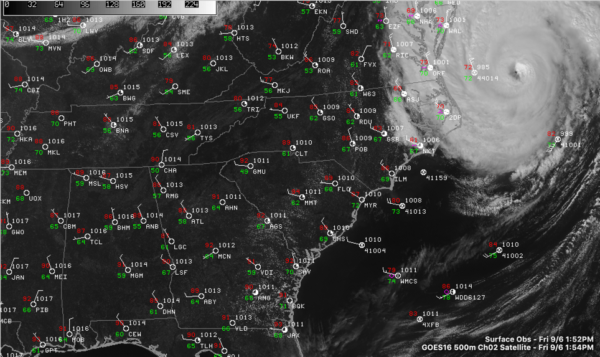 By Meteorologist Johnny Parker and Bill Murray
Temperatures across the state are currently in the upper 80s to lower 90s with not a cloud in the sky. Rainfall continues to be scarce. The weekend will be mostly dry with an exception across the southern portion of Alabama where there might be a chance of isolated storms.
Fortunately, there may be a better opportunity next week for more isolated to scattered pop-up storms across central and northern Alabama. If they do pop up, some of them could be strong. However, rainfall amounts will generally be spotty and less than one inch in most locations.
Heat advisories are being issued for parts of Central Alabama for tomorrow. Temperatures in the lower and middle 90s will combine with high dewpoints to produce heat index values near 105F. You know the drill: stay hydrated, take it easy, take frequent breaks, find a pool or air-conditioned spot.
DORIAN
Dorian is weakening and finally moving away from the U.S. coastline after days of meandering and menacing coastal states. As of the 2 p.m. EDT Advisory from the National Hurricane Center, maximum sustained winds are at 90mph with a central pressure of 958mbars. Movement is Northeast at 21 mph. As expected, a low-pressure trough has increased Dorian's speed and helped to push it along.
Dorian is currently located 125 miles Northeast of Cape Hatteras, North Carolina, and 400 miles Southwest of Nantucket, Massachusetts. Dorian's hurricane-force winds extend out to 45 miles while the tropical-storm-force winds extend out to 220 miles. As Dorian moves away from the Outer Banks through today, it is expected to impact Nova Scotia by late Saturday through Sunday as it transitions to a strong post-tropical storm.
Around noon CDT, an elevated Weatherflow station at Jannette Pier, North Carolina, recently reported sustained winds of 83 mph and a wind gust of 98 mph.
Advisories still in effect:
Hurricane Warning is still in effect for the Outer Banks of North Carolina and Virginia border
Storm Surge Warning for Salter Path, NC to Poquoson, VA / Pamlico, Albemarle Sounds, Hampton Roads area
Tropical Storm Warning for Chesapeake Bay region
Tropical Storm Warning for Cape Cod, Massachusetts
Tropical Storm Warning for portions of Northeastern Maine
Flash Flood Warnings for coastal regions of North Carolina and Virginia
Hurricane Watch for Nova Scotia
Hurricane Warning for
eastern Nova Scotia from Hubbards to Avonport
Hurricane Watch forPrince Edward Island, southwestern Nova Scotia from Avonport to Hubbards, the Magdalen Islands, and southwestern Newfoundland from Parson's Pond to Indian Harbour.
Tropical Storm Warning for Prince Edward Island and southwestern Nova Scotia from Avonport to Hubbards.
Category: Alabama's Weather, ALL POSTS, Tropical
Bill Murray is the President of The Weather Factory. He is the site's official weather historian and a weekend forecaster. He also anchors the site's severe weather coverage. Bill Murray is the proud holder of National Weather Association Digital Seal #0001
@wxhistorian