CODE ORANGE AIR QUALITY ALERT: The Jefferson County Department of Health has issued a Code Orange Air Quality Alert for Jefferson and Shelby Counties for Saturday, June 27. Under Code Orange conditions, particulate matter concentrations are expected to reach levels that are unhealthy for sensitive groups. People with heart or lung disease, older adults, and children should reduce prolonged or heavy exertion outdoors. A lot of this is due to the Saharan dust cloud we have been talking about for weeks, which is now in place over the Southeast.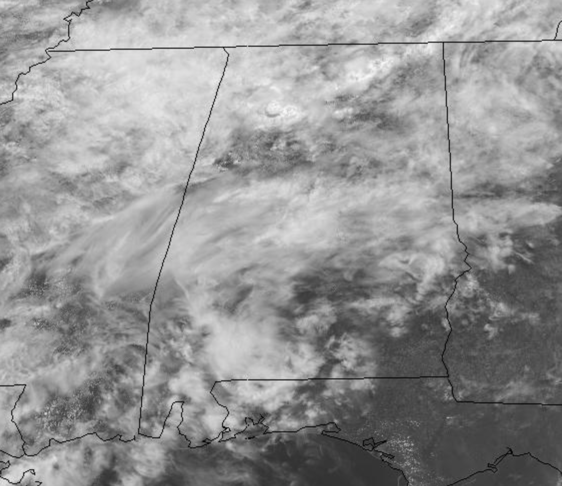 SOME STRONG STORMS THIS AFTERNOON: A warm, muggy day it is as temperatures are in the 80s despite more clouds than sun today with scattered areas of rain and some storms.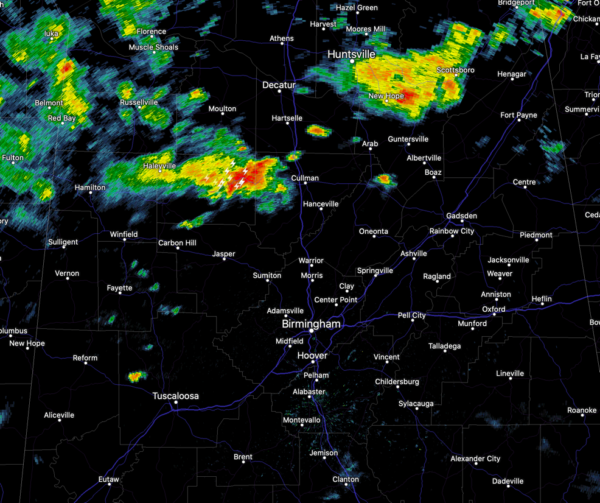 As we head into the afternoon hours, an upper-trough moving across the area, along with a warm, moist air mass means we are going to see additional rain and storms the rest of today. Some of these storms will be strong to marginally severe and the SPC maintain "marginal risk" (level 1/5) for severe storms today.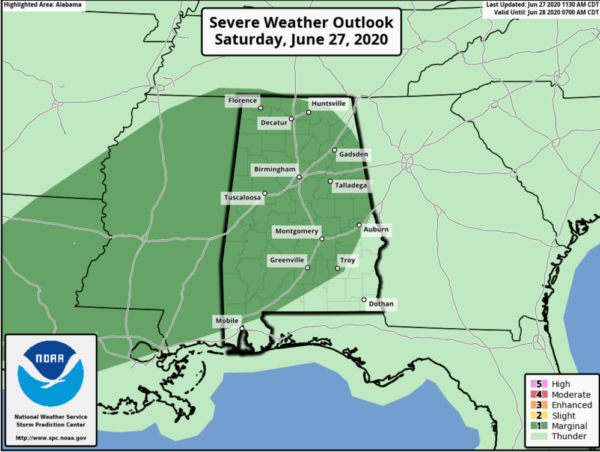 A few stronger storms will be capable of producing damaging winds and hail, so we will be watching the radar. The storm threat will wind down through the evening hours, with some lingering showers. The sky will remain mainly cloudy and lows will be on either side of 70.
TOMORROW: Showers and storms thin out a bit, but still they will be out there across the Alabama landscape, especially during the peak heating of the day in the afternoon and evening hours. The day itself, will be hot and humid, with highs likely in the low 90s, with a mix of sun and clouds.
THE WEEK AHEAD: Monday will be very similar to Sunday, with showers and storms scattered on the radar during the afternoon hours. For the rest of the week, a ridge over the Plains, will allow for troughing across the Southeast, and we will be see higher rain chances Tuesday through Friday. The week ahead will be very similar to this previous week, with numerous showers and storms on a daily basis. These will be possible at anytime, but the greatest coverage will come during the afternoon and evening hours. Of course, it will not be raining all the time, and we should see a partly sunny sky each day with very warm and humid conditions. Highs mainly in the upper 80s to near 90, while some days that we see may sun, highs will climb into the low 90s. Rainfall again will be very unevenly distributed and is very hard to actually predict and rainfall totals could be half an inch to 2 or 3 inches for some…but we should see see some rain this week.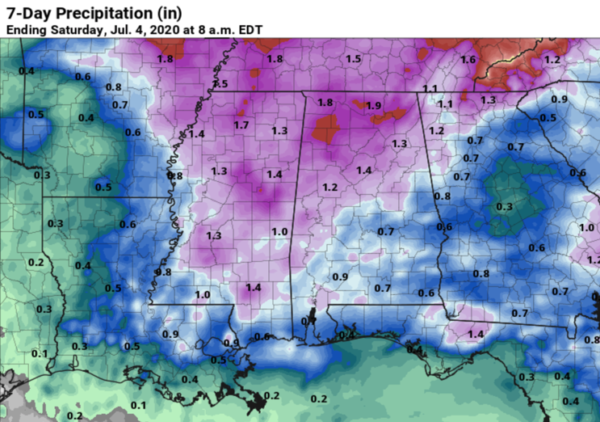 IN THE TROPICS: All is quiet across the Atlantic basin and tropical cyclone development is not expected the next five days.
BEACH FORECAST CENTER: Get the latest weather and rip current forecasts for the beaches from Fort Morgan to Panama City on our Beach Forecast Center page. There, you can select the forecast of the region that you are interested in visiting.
WORLD TEMPERATURE EXTREMES: Over the last 24 hours, the highest observation outside the U.S. was 121.8F at Herat, Afghanistan. The lowest observation was -94.9F at Vostok, Antarctica.
CONTIGUOUS TEMPERATURE EXTREMES: Over the last 24 hours, the highest observation was 120F Death Valley, CA. The lowest observation was 31F at Angle Fire, NM.
Category: Alabama's Weather, ALL POSTS
Montgomery Television Meteorologist and long time Contributor on AlabamaWX. Stormchaser. I did not choose Weather, it chose Me. College Football Fanatic.
@Ryan_Stinnet