For most of Alabama, we have gone ten consecutive days without measurable rain, and today should extend the streak to eleven. This is unusual for March, which is the wettest month of the year for most of the state (based on climatological averages). But the pattern will flip next week to an unsettled, stormy one for the Deep South. We will have two main rounds of rain and storms, one Monday, and the next one Wednesday.
MONDAY: For now, there is no formal severe weather risk defined for Alabama from SPC (NOAA's Storm Prediction Center). A major storm system will produce huge amounts of snow over the weekend across parts of CO/WY/NE, and will bring a severe thunderstorm threat to sections of southern Kansas, Oklahoma, Texas, Arkansas, and Louisiana. The wind fields with this system will weaken a bit as it moves into Alabama Monday, and with limited instability it doesn't look like a major severe weather threat.
However a few strong storms capable of gusty winds or even a brief tornado cannot be ruled out within a zone centered over West-Central Alabama. SPC will probably introduce a "marginal risk" (level 1/5) on future outlooks, and we will watch the thunderstorms closely as they move through. This is mid-March after all, and we are getting into the core of the spring segment of our tornado season.
The surface front will become stationary Monday night, and showers are possible Tuesday, mainly along and south of I-20. Severe storms are not expected Tuesday.
WEDNESDAY: A vigorous upper air system will be responsible for a deepening surface low northwest of Alabama, over Missouri. Unstable air will surge northward from the Gulf of Mexico, and the large scale setup suggests potential for a signifiant severe weather threat for the Deep South. Thunderstorms Wednesday afternoon and Wednesday night will be capable of producing large hail, damaging winds, and tornadoes.
Analogs are valid ways of looking at events like this… you take the forecast surface and upper air pattern Wednesday, and look back at what happened with previous setups like this over the years. Analog guidance does suggest we could very well have potential for one or two violent, long track tornadoes somewhere across Mississippi or Alabama. I don't say this to alarm anyone; we walk a fine line in the weather office. We never want to "scare" anyone, but at the same time we have a responsibility to get people prepared for severe weather days.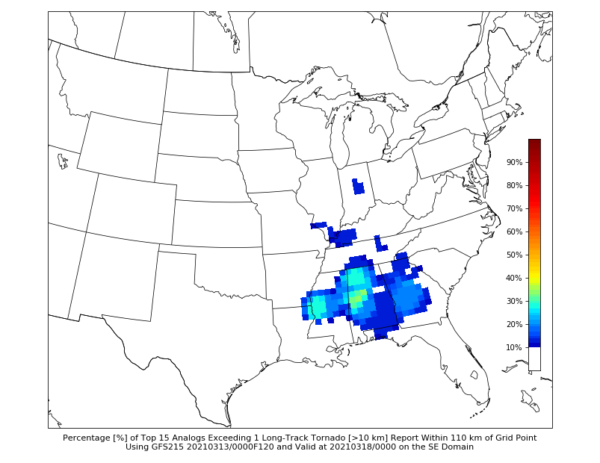 SPC has all of Alabama in a severe weather risk in their "Day 5" outlook for Wednesday. They don't issue categorical outlooks past day 3.
While the synoptic scale favors a signifiant severe weather event Wednesday, it is important to note that we don't know how the mesoscale features will set up right now, and accordingly we can't be more specific.
Already I am hearing the familiar question "will this be like April 27, 2011?". Long time readers know I don't like that question… the answer is no, but all it takes is one tornado in the entire state. If that one comes down your street, it is YOUR April 27. Events like April 27, 2011 are generational, but have to be ready for every severe weather event.
Please do not be anxious or worried about what happens next week. Remember, even on major severe weather days, odds of any one spot being hit by a tornado are low. And, this is when we have severe storms and tornado threats… it is nothing unusual. Just have multiple, reliable ways of hearing warnings, and have a plan. Know your safe place, and have helmets there for everyone. Pay attention to updates over the next few days, and we will get through the week together.
Category: Alabama's Weather, ALL POSTS
James Spann is one of the most recognized and trusted television meteorologists in the industry. He holds the AMS CCM designation and television seals from the AMS and NWA. He is a past winner of the Broadcast Meteorologist of the Year from both professional organizations.