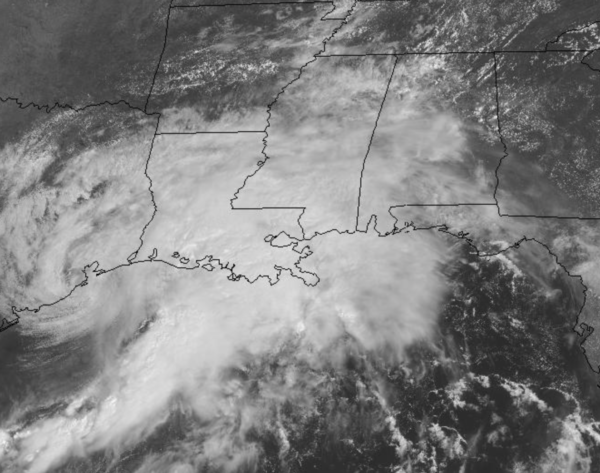 Deep tropical moisture is spreading across Alabama and will remain in place the next several days meaning rain will be highlight our forecast. For today, the sky is relatively cloudy with scattered showers and storms; temperatures on either side of 80° for most locations.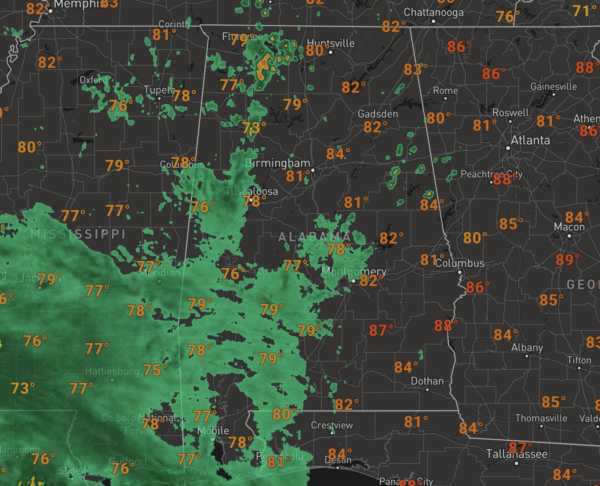 Rain and storms will become more widespread tomorrow across the state which will keep our temperatures in the 70s as all the rain associated with Nicholas spreads northeast.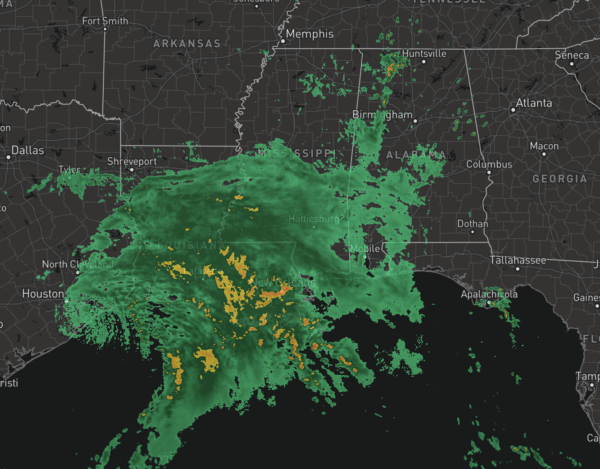 NICHOLAS: Nicholas made landfall as a hurricane this morning, but is slowly weakening as it slowly moves northeast. the center of Tropical Storm Nicholas was located near latitude 29.6 North, longitude 95.3 West. Nicholas is moving toward the northeast near 6 mph and this general motion should continue today. The storm should move more slowly toward the east-northeast by tonight, and then turn eastward on Wednesday over Louisiana. Little motion is anticipated on Thursday.
NOAA Doppler weather radar and surface observations indicate that maximum sustained winds have decreased to near 45 mph with higher gusts. Additional weakening is forecast during the next couple of days as Nicholas moves farther inland, and the storm is forecast to become a tropical depression by tonight. Tropical-storm-force winds extend outward up to 140 miles, mainly over water to the southeast of the center. A TCOON observing station at Texas Point, Sabine Pass, Texas, recently measured a 1-minute sustained wind of 40 mph and a gust to 51 mph. The estimated minimum central pressure is 1002 mb (29.59 inches) based on nearby surface observations.
ELSEWHERE IN THE TROPICS: We are likely to have Odette and Peter sooner than later.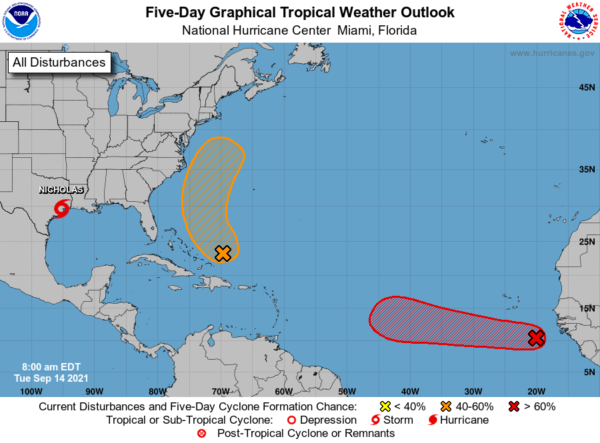 1. A tropical wave accompanied by a well-defined low pressure system is located about 400 miles southeast of the southern Cabo Verde Islands. Associated shower and thunderstorm activity continues to show signs of organization, and environmental conditions are conducive for a tropical depression to form during the next couple of days while system moves generally westward at about 15 mph across the eastern tropical Atlantic Ocean. Formation chance through 5 days…high…90 percent.
2. An area of low pressure is expected to form during the next day or two a couple of hundred miles north of the southeastern or central Bahamas as a tropical wave interacts with an upper-level trough. Some gradual development of this system is forecast thereafter, and a tropical depression could form later this week while the system moves north-northwestward or northward across the western Atlantic. Formation chance through 5 days…medium…60 percent.
THURSDAY THROUGH THE WEEKEND: The tropical air mass will remain in place, so it will remain mainly cloudy with scattered to numerous showers and thunderstorms each day. Rain is possible at anytime, but the greatest coverage will most likely come from noon to midnight. A good chance temperatures won't get out of the 70s again Thursday, but should at least make it to the low 80s Friday through Sunday.
FOOTBALL WEATHER: Here is an early look at some college football weather forecasts for Saturday. Keep in mind this could change as we get closed to the weekend.
ALABAMA AT FLORIDA (2:30p CT kickoff): It will be a warm, humid day in Gainesville. The sun will be out at times, but there is a pretty decent chance of a few passing showers or thunderstorms during the game (take the rain gear)… temperatures will fall from near 87 at kickoff, into the low 80s by the fourth quarter.
AUBURN AT PENN STATE (6:30p CT kickoff): A passing shower can't be ruled out during the game in State College (especially the first half), otherwise mostly fair with temperatures falling from around 79 at kickoff, into the low 70s by the final whistle.
UAB AT NORTH TEXAS (6:30p CT kickoff): The sky will be clear in Denton, Texas Saturday evening. Temperatures will fall from around 90 degrees at kickoff, to near 80 by the fourth quarter.
NORTH ALABAMA AT JACKSONVILLE STATE (6:00p CT kickoff): It will be a warm, humid Saturday night; a shower or storm can't be ruled out, mainly during the first half. Temperatures will fall from near 80 at kickoff, into the mid 70s by the final whistle.
TROY AT SOUTHERN MISS (6:00p CT kickoff): A few showers are likely during the first half of the game, otherwise it will be a warm, humid night in Hattiesburg with temperatures falling from the low 80s into the upper 70s.
NEXT WEEK: Moist air remains in place… for now we expect a mix of sun and clouds each day with the continued chance of scattered showers and thunderstorms, especially during the afternoon and evening hours.
BEACH FORECAST CENTER: Get the latest weather and rip current forecasts for the beaches from Fort Morgan to Panama City on our Beach Forecast Center page. There, you can select the forecast of the region that you are interested in visiting.
WORLD TEMPERATURE EXTREMES: Over the last 24 hours, the highest observation outside the U.S. was 113.9F at Ouallene, Algeria. The lowest observation was -95.4F at Vostok, Antarctica.
CONTIGUOUS TEMPERATURE EXTREMES: Over the last 24 hours, the highest observation was 116F at Ocotillo Wells, CA. The lowest observation was 23F at Copper Basin, ID.
Category: Alabama's Weather, ALL POSTS
Montgomery Television Meteorologist and long time Contributor on AlabamaWX. Stormchaser. I did not choose Weather, it chose Me. College Football Fanatic.
@Ryan_Stinnet