TORNADO EMERGENCY for Chester, IL.
Large, damaging tornado is on the ground with debris being lofted upwards of 20k feet. There are spotter reports of a large tornado on the ground. This tornado will continue into Steeleville, where everyone should be in shelter.
Multiple buildings are reported down and vehicles overturned in St. Mary from this same tornado. The damage is significant.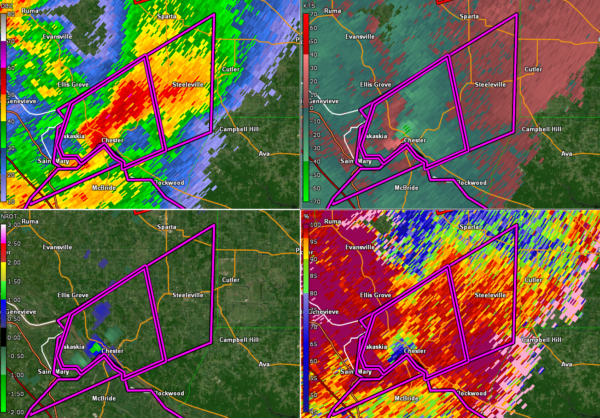 BULLETIN – EAS ACTIVATION REQUESTED
TORNADO WARNING
NATIONAL WEATHER SERVICE ST LOUIS MO
915 PM CDT SUN OCT 24 2021
…TORNADO EMERGENCY FOR CHESTER!…
THE NATIONAL WEATHER SERVICE IN ST LOUIS HAS ISSUED A
* TORNADO WARNING FOR…
SOUTHEASTERN RANDOLPH COUNTY IN SOUTHWESTERN ILLINOIS…
* UNTIL 1000 PM CDT.
* AT 914 PM CDT, A CONFIRMED LARGE AND DESTRUCTIVE TORNADO WAS
OBSERVED OVER CHESTER, MOVING NORTHEAST AT 40 MPH.
TORNADO EMERGENCY FOR CHESTER!. THIS IS A PARTICULARLY DANGEROUS
SITUATION. TAKE COVER NOW!
HAZARD…DEADLY TORNADO.
SOURCE…RADAR CONFIRMED TORNADO.
IMPACT…YOU ARE IN A LIFE-THREATENING SITUATION. FLYING DEBRIS
MAY BE DEADLY TO THOSE CAUGHT WITHOUT SHELTER. MOBILE
HOMES WILL BE DESTROYED. CONSIDERABLE DAMAGE TO HOMES,
BUSINESSES, AND VEHICLES IS LIKELY AND COMPLETE
DESTRUCTION IS POSSIBLE.
* THE TORNADO WILL BE NEAR…
BREMEN AROUND 925 PM CDT.
PRECAUTIONARY/PREPAREDNESS ACTIONS…
TO REPEAT, A LARGE, EXTREMELY DANGEROUS AND POTENTIALLY DEADLY
TORNADO IS ON THE GROUND. TO PROTECT YOUR LIFE, TAKE COVER NOW! MOVE
TO AN INTERIOR ROOM ON THE LOWEST FLOOR OF A STURDY BUILDING. AVOID
WINDOWS. IF IN A MOBILE HOME, A VEHICLE OR OUTDOORS, MOVE TO THE
CLOSEST SUBSTANTIAL SHELTER AND PROTECT YOURSELF FROM FLYING DEBRIS.
TORNADOES ARE EXTREMELY DIFFICULT TO SEE AND CONFIRM AT NIGHT. DO NOT
WAIT TO SEE OR HEAR THE TORNADO. TAKE COVER NOW!
&&
LAT…LON 3790 8971 3787 8980 3788 8980 3789 8982
3791 8984 3788 8989 3789 8990 3789 8993
3791 8994 3798 8991 3806 8975
TIME…MOT…LOC 0214Z 239DEG 34KT 3792 8985
TORNADO…OBSERVED
TORNADO DAMAGE THREAT…CATASTROPHIC
MAX HAIL SIZE…<.75 IN $$
Category: ALL POSTS, Headlines, Severe Weather
Bill Murray is the President of The Weather Factory. He is the site's official weather historian and a weekend forecaster. He also anchors the site's severe weather coverage. Bill Murray is the proud holder of National Weather Association Digital Seal #0001
@wxhistorian