It's the waiting game as a very dynamic system is destabilizing the atmosphere over the Southeast and will bring severe storms to Alabama today and tonight. The SPC has expanded the "moderate risk" (level 4/5) into West Alabama, including Pickens, Lamar, Fayette, Marion, Winston, Walker, and Franklin counties. They have also expanded the "enhanced risk" (level 3/5) eastward to almost Birmingham, including areas around Tuscaloosa, Cullman, Jasper, Huntsville, and the Shoals area…there is a "slight risk" (level 2/5) as far east as the Georgia border, down to Auburn and Troy, and the Alabama Gulf Coast, and a "marginal risk" (level 1/5) for almost what is left in the state. We also note the southeast corner of the state (Dothan, Ozark, etc) has a "marginal risk" (level 1/5) defined for tomorrow morning from 6-10 a.m.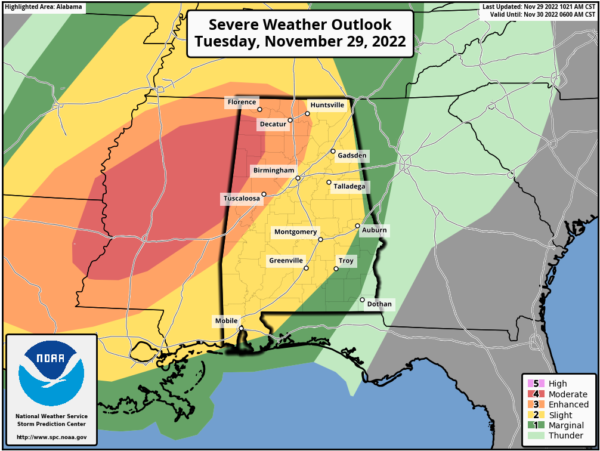 TIMING: A few severe storms are possible across West Alabama this afternoon, between 3-7PM, where large hail is possible, but the main threat will come tonight from 7PM through 7AM tomorrow across the state. Damaging winds, up to 70mph, and tornadoes are possible, especially across West and Southwest Alabama where the better combination of instability and shear will be located.
RADAR CHECK: There are a few showers developing over Southwest Alabama, and there are some storms in North/Central Mississippi, but most of Alabama is quite for now, but of course that will change later today and overnight.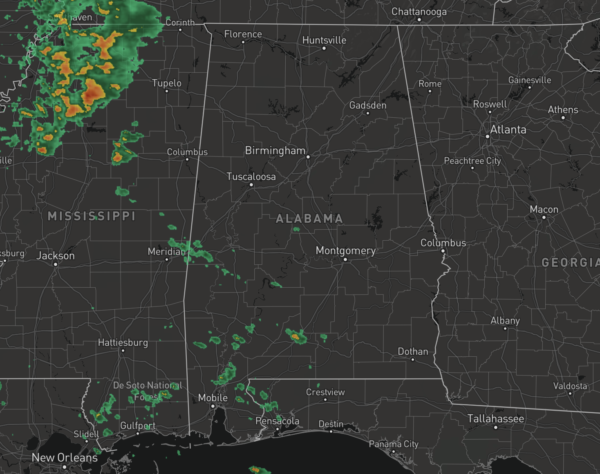 GUSTY WIND: Pressure gradient winds (non-thunderstorms winds) will average 15-25 mph tonight, with potential for gusts to 40 mph in spots.
RAIN: Rain amounts of 1-2 inches are likely; widespread flooding issues are not expected, but some isolated areas are certainly possible.
BE PREPARED, NOT SCARED: For most of Alabama, the core threat will come during the late night/early morning hours, meaning you have to have a reliable way of getting warnings if they are needed. The best way is a NOAA Weather Radio; every home and business needs one. Be sure WEA (Wireless Emergency Alerts) are enabled on your phone, and have the free ABC 33/40 weather app installed.
Know the safe place in your home, and have helmets for everyone there. And, if you live in a mobile home, know the location of the nearest shelter, or business that is open 24/7 that can provide shelter, and also know the quickest way to get there. Have transportation available. We should note there is some uncertainty in how this event unfolds tomorrow night, so stay up-to-date, with the most recent forecast.
Events like this are very common in Alabama in November and December; there is no need to be anxious or worried. Just be prepared, get the warnings, and we will get through the night fine together.
Category: Alabama's Weather, ALL POSTS, Severe Weather
Montgomery Television Meteorologist and long time Contributor on AlabamaWX. Stormchaser. I did not choose Weather, it chose Me. College Football Fanatic.
@Ryan_Stinnet