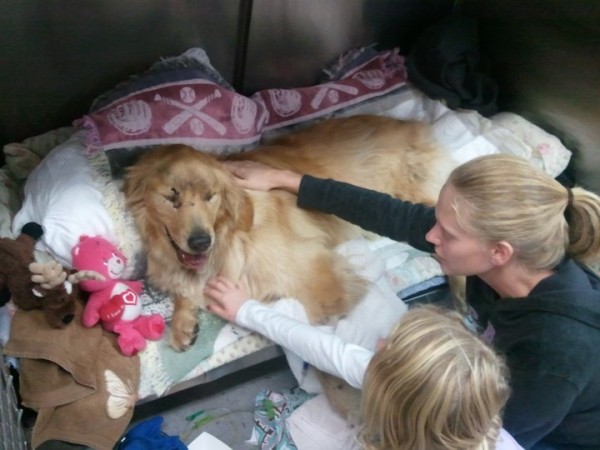 JB,
Here is an update on the Stallworth's dog, Jake. Thanks for posting about their plight. Attached is a picture of him at the vet. hospital.
"Rob talked to the Drs and we are still hopeful. We know it's still a long shot, but the Drs said this morning though his back is broken, they believe his spinal cord wasn't cut. Basically, right now we are praying HARD that he is not paralyzed. Rob said Jake seems strong and will not let Rob stop touching him.
We believe it will take a Miracle, but we have seen God's miracles through this whole time. Though it's not what we wanted, we know HE is with us. We know only HE can heal, Jake, so that is exactly what we are asking …
We continue to be amazed by the love and support. We are heading to see Jake now, so no updates for awhile"
Thanks JB,
Sue
——————————————————————————–
(See earlier update below)
**Many of you saw this post on the blog a few days ago… here is an update posted tonight**
"Update on the pups…..from Heather….
I know many of you know this from facebook, but I feel like I need to send this. After 5 long days, 1000 fliers, hours of searching and praying, we have found our puppy babies. We got a phone call about a deceased golden retriever, and it did turn out in fact to be our Lexie on the train tracks. Devasted. Rob knew Jake would be near by his sister. It was dark, but he was going in those woods to find his boy. I'm going to tell you. A dear friend told us, God is "The God Who Sees ", so we've been praying specifically all day that God will show us where the pups were. He did. He showed us Lexie. The kids and I sat on the couch, cried, and thanked God for answering our prayers. Then we prayed again that God would show Rob exactly where Jake was and that both Rob and Jake would be safe. They were at the train tracks in the dark… Not two minutes later, Rob called that he found Jake. He was down a approximately 25 ft. ravine and injured. Quick friends got to Rob, called Hoover Fire Dept (my husband wasn't leaving his dog, so technically you can say they were rescuing Rob from the ravine). There's so much more than all this, but bottom line Jakie is at the animal hospital now. He's in rough shape. He's missing an eye and do not know the outcome yet of his x-rays (broken back? pelvis?), and he's full of infections. But, we have our boy. We are HEARTBROKEN about Lexie. I can hardly type her name. It's so hard to believe she's gone … she was our firecracker around here, our little mama … But, we're focusing on Jake. Please pray for him to heal and return home to us soon, but please pray for our family as we also grieve Lexie and the trauma of this event. Especially Haley. Lexie was "her girl" …
I cannot begin to express our family's gratitude -first for EVERY SINGLE PRAYER, but also to the people of Hoover and Helena who have came out to help put over 1000 fliers, who have searched and called their names along side of us, who called vet after vet, for everyone reposting on facebook and forwarding on emails, businesses posting in their windows throughout Helena and Hoover, ABC 33/40 even posted on their weather blog, I know I'm forgetting things, but every detail helped – we had to get the word out so people knew to look … the sense of community and love we felt was overwhelming. We live in a great community.
THIS IS WHY YOU'VE BEEN GETTING ALL THESE EMAILS … THESE DOGS ARE OUR FAMILY. You all may not understand the love of our pets, but regardless you have prayed for us and for that I thank you from the bottom of our hearts"
The original post is below…
We do not do this often but this request seems very special. You can find any post that is non-weather related under the "Hodgepodge" Category. I wish the very best in finding these beautiful dogs. I know if Molly was missing I would not sleep a wink:
Hello J.B.,
I know it's not your job to see to every missing animal story, but I wanted to see if you could do anything with this one. My aunt runs an animal rescue in Nashville, and often hears of missing animals from other places. She forwarded this to me, since we live closer to Hoover than she does.
Thanks so much!
Kim
From: Silver Rescue
Date: November 12, 2010 12:41:22 AM CST
To: Kimberly Payne
Subject: HOOVER,AL – OUR DOGS ARE MISSING – STALLWORTH
Hi Kim,
I don't know where this is in relation to you but if you have some contacts that may be near, maybe you could forward this to them?
———- Forwarded message ———-
From: heather@thestallworths.com
Sent: 11/11/2010 7:34:35 A.M. Central Standard Time
Subj: OUR DOGS ARE MISSING – STALLWORTH
Our Pups are missing. Lexie and Jake. The sweetest pups you'll meet. If you have met them, or even heard us talk about them, they are our second children. Please keep your eye out for them (hoping they are still together, but they may not be) and pray for their safe and QUICK return, or that a good stranger has found them and will call us soon… kids are devasted and I'm not much better.
We live off of S. Shades Crest Rd in Hoover in a small subdivision called Oak Crest. But, Russet Woods is behind us, and Southpointe across the street. We've had a dog show up here from Helena, so really -anywhere in the Hoover/Helena/Bessemer area. If you see them, please call 567-5719 (Rob).
If you can pass this along to anyone else, I would much appreciate it. You never know who could see them.
Thank you for all your help and prayers.
Heather Stallworth
Category: Hodgepodge