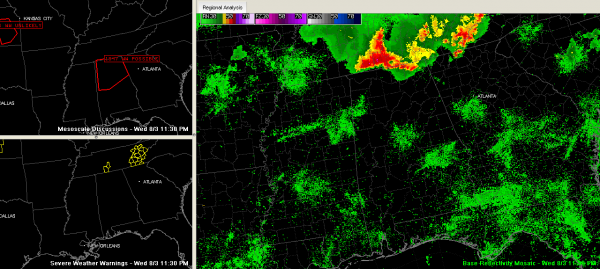 I made the sacrifice tonight…
Having given up all hope on it ever raining again, I finally went outside this evening, set up the sprinkler on the lawn, and let it rip.
I watered, and I watered.  I could actually hear the grass greedily drinking it in.
And lo and behold, I look to the north to see big storms developing.  They have been building and merging over southern Tennessee.   They are entering North Alabama and now the SPC even says they may issue a severe thunderstorm watch!
Moisture levels are high and it is certainly still warm and muggy.  It was 89F at Birmingham at 11 p.m.  So there is fuel for the storms.  Surface based CAPEs are still running over 2500 j/kg so the strosm could persist well into Central Alabama.  And perhaps they will be the seeds for more storms tomorrow.
Will wonders never cease?
Pardon me…I have to go turn off the sprinkler.
Category: Alabama's Weather
Bill Murray is the President of The Weather Factory. He is the site's official weather historian and a weekend forecaster. He also anchors the site's severe weather coverage. Bill Murray is the proud holder of National Weather Association Digital Seal #0001
@wxhistorian