An all new edition of the ABC 33/40 Weather Xtreme video is available in the player on the right sidebar of the blog. You can subscribe to the Weather Xtreme video on iTunes by clicking here.
WARM APRIL AFTERNOON: As warm as 87 degrees in Alabama this afternoon… that is the current observation in Montgomery as I write this update. Most other places are in the mid 80s, and the sky is basically yellow thanks to the vast sea of pollen over the state. Nothing is on the radar, and the chance of rain remains tiny through tonight.
Should be a great night for the home opener for the Birmingham Barons at the all new Regions Field in downtown Birmingham… about 80 at the first pitch with a gusty south breeze. Only a 10 percent chance of a shower during the game.
TO THE WEST: Tornado watches cover much of Arkansas, and up into Southeast Missouri and Southern Illinois. Storms will increase in this region in coming hours.
THE ALABAMA SEVERE WEATHER THREAT TOMORROW: Generally speaking, the morning model set has come in with parameters that are little more favorable for severe weather tomorrow. Instability values are a little higher (surface based CAPE values over 1,000 j/kg), along with significant low level shear and low LCL (lifted condensation level) heights will favor a squall line with potential for damaging winds, and a few tornadoes in cells that form east of the main line.
TIMING: No real change in our thinking. The overall severe weather threat is from 11:00 a.m. until 11:00 p.m.
*Storms should impact places in West Alabama like Haleyville, Vernon, Fayette, Hamilton, Jasper, Tuscaloosa, Eutaw, and Greensboro from 11:00 a.m. until 2:00 p.m.
Then, the risk moves east, and from 2:00 until 5:00 p.m. cities like Birmingham, Cullman, Brent, Oneonta, Cullman, Clanton, and Pell City.
And, the biggest risk from 5:00 until 9:00 p.m. will be for communities like Anniston, Gadsden, Ashland, Centre, Heflin, and Roanoke, in East Alabama.
Please understand these are approximate times for the MAIN BAND of storms… discrete storms will form ahead of that main line and can happen earlier.
MODES OF SEVERE WEATHER: The high resolution NAM is showing discrete cells forming tomorrow afternoon over the eastern half of Alabama, ahead of the main squall line over West Alabama. This means the highest tornado probability will be over the eastern counties of the state with these cellular storms, but we still can't rule out an isolated tornado over West Alabama. Strong, potentially damaging straight line winds will be likely along the main line that sweeps across the state during the afternoon and evening hours.
SPC has raised a 45 percent probability of severe weather for parts of Alabama tomorrow afternoon… meaning a "moderate risk" will be needed… highest severe weather probabilities are east of a line from Birmingham to Demopolis to Mobile. This means in the enhanced area there is a 45 percent chance of severe weather within 25 miles of a given point.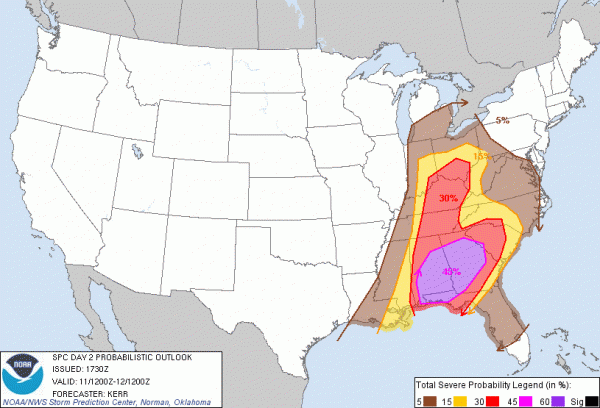 HEAVY RAIN: Rain amounts of 1.5 to 2 inches are likely, and there could be a few flooding issues before the day is over, especially in low lying and flood prone areas. On the positive side, this rain will knock down the pollen levels on a temporary basis.
*Be sure you are in a position to hear severe weather watches and warnings tomorrow as they are issued… this should NEVER be an outdoor warning siren… a NOAA Weather Radio is the baseline, and it is a great idea to have a good smart phone app like MyWarn, or iMap WeatherRadio so you can get warnings on the go. You can also watch ABC 33/40 severe weather coverage on these apps if we have tornado warnings.
*Please pay attention to severe thunderstorm warnings. Damaging straight line winds can produce damage just like a tornado in many cases. Listen to the specific words used in each warning… they will clearly define the threat.
The storms will end from west to east across Alabama tomorrow night as drier air works into the state.
FRIDAY THROUGH SUNDAY: Sunshine returns to Alabama Friday with a high in the low 70s… the weekend will be dry. Lots of sun Saturday with a high in the mid 70s… partly sunny Sunday with a high not too far from 80 degrees.
Showers and possibly a thunderstorm will return to Alabama Monday as moisture surges northward, but there is little dynamic forcing and for now we don't expect any severe weather problems. A few showers could linger into Tuesday and Wednesday… see the Weather Xtreme video for the maps, graphics, and details.
WEATHER BRAINS: Don't forget you can listen to our weekly 90 minute netcast anytime on the web, or on iTunes. This is the show all about weather featuring many familiar voices, including our meteorologists here at ABC 33/40.
CONNECT: You can find me on all of the major social networks…
I had a great time today seeing the kids at Curry Elementary and Middle School in Walker County… be looking for them on the Pepsi KIDCAM today at 5:00 and 6:00 on ABC 33/40 News! The next Weather Xtreme video will be posted here by 7:00 a.m. tomorrow…
Category: Alabama's Weather
James Spann is one of the most recognized and trusted television meteorologists in the industry. He holds the AMS CCM designation and television seals from the AMS and NWA. He is a past winner of the Broadcast Meteorologist of the Year from both professional organizations.