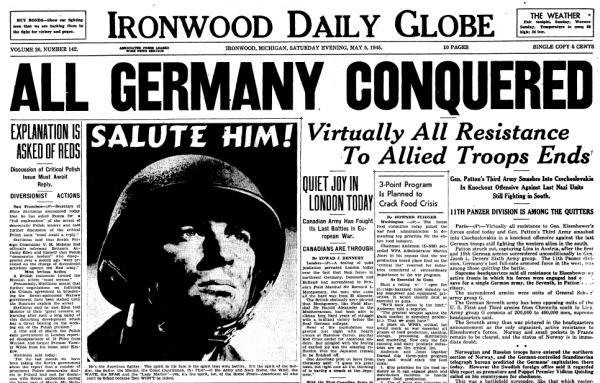 On Saturday, May 5, 1945, newspaper headlines carried stories about the pending Allied victory in Europe in World War II. V-E Day would come just three days later. Even as Americans celebrated, the only casualties that occurred in the continental U.S. during the war would occur as a result of Japan's Top Secret V1 project. 
The objective was to release thousands of forty foot rice paper balloons into the jet stream over Japan which would blow them across the Pacific to the northwestern United States.   The belief was that the shower of bombs would create a panic among American citizens. 
On this date, a bomb did drop into a group of picnickers on Weyerhauser company land on Gearhart Mountain near Bly, OR.  The group included a Pastor named Rev. Archie Mitchell, his pregnant wive, their five children and some other Sunday School kids. 
Authorities knew of the balloon attacks, and while they had been keeping them secret to avoid panic, had recently decided to quietly get the word out to local officials, community leaders, etc.
Reverend Mitchell was one of these who had been told, but he didn't let the story out (leaders were to be quiet about it).  He was parking the car when his family found something and called to him; he was about to warn them not to touch anything when the bomb went off, killing his wife and five children.   
In spite of these fatalities, the V1 program was a failure for the Japanese, as only a handful of bombs actually reached their objective.
In a sad post-script to the story, Rev. Mitchell later remarried (to an older sister of one of the children killed), and ended up becoming a missionary to this remote Asian country called Vietnam. He ended up disappearing in the turmoil of the war there.
Category: Met 101/Weather History
Bill Murray is the President of The Weather Factory. He is the site's official weather historian and a weekend forecaster. He also anchors the site's severe weather coverage. Bill Murray is the proud holder of National Weather Association Digital Seal #0001
@wxhistorian