I never know this would be such a touchy subject.
After years and years of getting reports of "heat lightning" in the summer and not really saying anything but "thanks for the report", I have decided to go on a campaign for truth.
There is no such thing as heat lightning.
Some have told me that is almost as bad as telling people there is no Santa Claus. I have heard many stories from those that remember sitting on the porch with their grandmother as she pointed out "heat lightning" in the distance on a humid summer evening. Yep, I have lived in Alabama for 55 of my 57 years, and the term "heat lightning" is just part of our culture. The other two years were spent in Dallas, and yes, they say it in Texas too.
But, there is no such thing.
Lighting is produced by a thunderstorm. No thunderstorm, no lightning. Here is the deal… in the summer months, thunderstorms can tower to heights in excess of 50,000 feet. Lightning generated by those storms can be seen as far away as 100 miles, and at that kind of distance you can see the lightning, but not hear any thunder. And, you can look up and see stars. Because these kind of storms tend to form on hot summer evenings… the name "heat lightning" was born along the way.
But all lightning, cloud to ground, cloud to cloud, and in cloud, must come from a thunderstorm.
Don't believe me?
How about the Washington Post's Capital Weather Gang.
So, what is the problem?
When most say "heat lightning", they believe that the lightning in the air is simply the result of summer heat with no thunderstorm, and no rain. And, no danger. That is the problem. There is a real lightning danger near the storm, and we have to respect that risk. The mythical "heat lighting" isn't dangerous, and nothing to worry about.
Lightning kills more people than tornadoes, hurricanes, floods, or any other kind of bad weather. But because lightning usually kills people one at a time, it tends to be underrated as a hazard, and doesn't get much media attention.
I will confess that is the only weather phenomenon that scares me. Every storm has it, and you never know when or where the next ground strike will come. Lightning is always the most dangerous element of summer storms. In the words of the great American weather legend, J.B. Elliott… "lightning is frightening".
LAST NIGHT: The "Spann Twitter Army" is well aware of my campaign for truth on "heat lightning", and usually if it is used by a journalist/reporter/media person, they bring it to my attention. Some forwarded a tweet from an ESPN employee last night… which reported "heat lightning" at the North Carolina/South Carolina game in Columbia. Of course, it was lightning from a nearby storm… the lightning was very dangerous, and approaching the stadium. Soon, the game was halted. And, by the way, the SEC now does a marvelous job with severe weather safety at their events. Hats off to them for the right call at the right time last night.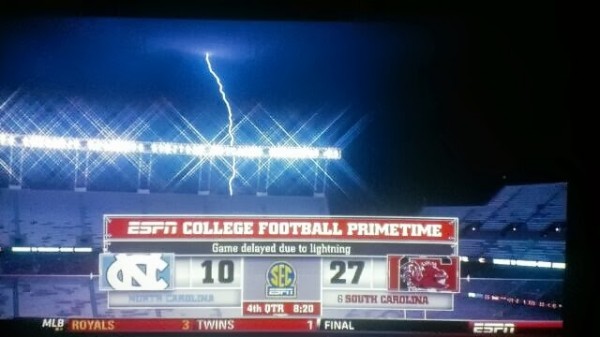 So, I corrected the ESPN employee, which led to a minor Twitter spat with some others about "heat lightning". My concern was that ESPN was suggesting it was "only heat lightning" implying there was no danger to fans at the game. Thus, the attempt at a correction.
Turns out the ESPN employee was not an on-air person, but one that is a "PR gal" (in her own words)…. Keri Potts. So, Keri, I apologize; I came across way too strongly, and you didn't need to be bothered by me. To my knowledge the on-air people that worked the game on ESPN handled the situation well with good weather information. Next time she is in Tuscaloosa for an Alabama game I hope she drops by my perch at Bryant Denny stadium where I do the jumbotron weather updates for a visit. Like some, she probably mistakes my passion for being a jerk. I am actually pretty laid back. I am just very serious about weather safety.
But, the quest for truth in weather will carry on. Weather is serious business around here, and there have been way too many funerals on my watch over the last 35 years. Yes, most of the deaths have been the result of tornadoes, but many of them have also been the result of lightning. Some very tragic deaths. We have to respect it, and get inside when it begins. "When thunder roars, go indoors".
Yep, no such thing as "heat lightning"… it is all lightning. And, all of those lightning strikes are very dangerous.
Don't even get me started on the reports I get of "lightening"… we will hold that rant for another day, but the graphic below says it all…
Category: Hodgepodge
James Spann is one of the most recognized and trusted television meteorologists in the industry. He holds the AMS CCM designation and television seals from the AMS and NWA. He is a past winner of the Broadcast Meteorologist of the Year from both professional organizations.