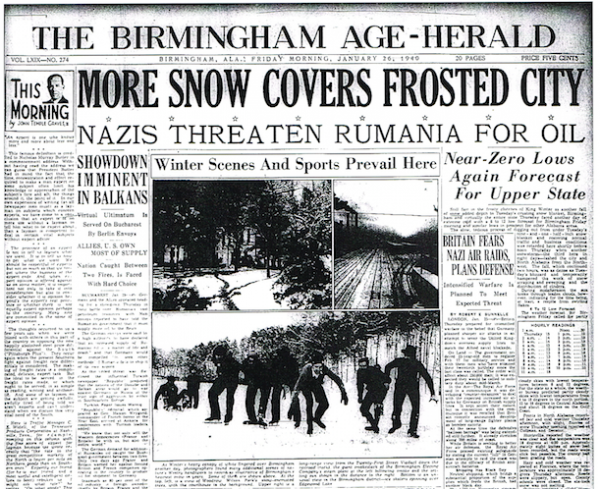 On the morning of January 26, 1940, Alabama and the Deep South were in the deep freeze and had been for over a week. Headlines on the Birmingham Age-Herald were dominated by the cold and additional snow that had fallen the day before.
But there were also disturbing news from Europe, where the Nazis were threatening to attack Romania for their oil. The British were planning defense against Nazi air raids. Closer to home, a serious coal shortage was leading to negotiations between the governor and miners for increased production through suspension of work rules.
The forecast for the 26th was for partly cloudy and not as cold conditions. But Friday the 26th would be just as cold as the day before, when the high was 20F. And lows by Saturday morning the 27th would again be 1F.
At 7 a.m., Birmingham Weather Bureau Chief E.C. Horton measured the temperature on the thermometer in his observation shelter at 1.2F. There was still a total of seven inches of snow on the ground. The airport reading, the official location now, was –5F, but the max/min thermometer showed a minimum reading of -6F.
Across North Alabama, temperatures were below zero, including -6F in Florence and -2F in Huntsville.
Horton saw no relief in sight, and called for lows to drop to below zero over northern sections the coming night, with overnight lows for the coming night between 6F and 22F.
The cold had been unprecedented in its duration. It had arrived on the night of January 18th as temperatures plummeted from 34F that afternoon to 2F the following morning. The mercury would not go above freezing until the afternoon of the 21st, and then only to a high of 37F.
The next day would see a high of 42F, but snow would fall much of the night of the 22nd and day of the 23rd, until .5 inches had fallen and a total of 10 inches was on the ground. The thermometer would not recover for the next week. Between the 23rd and 28th, the warmest it would get in Birmingham was 34F.
By the 26th, Skaters were actually able to skate on the frozen surface of the Black Warrior River west of Birmingham, where ice was six inches thick near the banks. A total of nineteen inches of snow was on the ground at Berry in Fayette County, a record that still stands.
An unheard of event!
Category: Alabama's Weather, Met 101/Weather History, Winter Weather
Bill Murray is the President of The Weather Factory. He is the site's official weather historian and a weekend forecaster. He also anchors the site's severe weather coverage. Bill Murray is the proud holder of National Weather Association Digital Seal #0001
@wxhistorian