Winter storm watches blanket the area from southeast Texas across southern Louisiana, southern Mississippi and Alabama, central Georgia, South Carolina and southwestern North Carolina.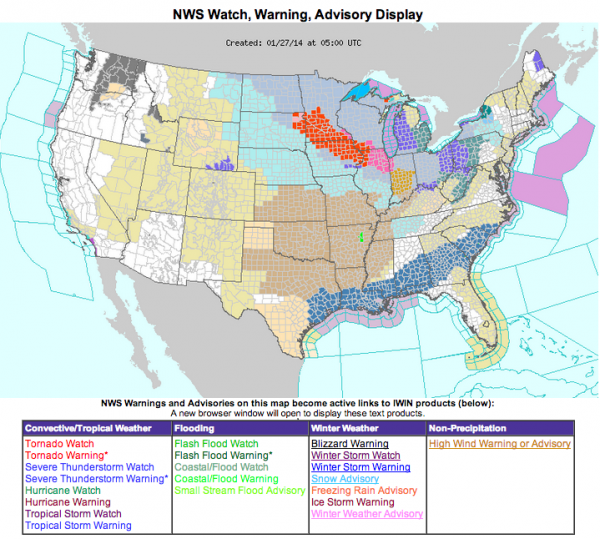 Just a couple of notes late tonight as I pore over model data.
GFS
…The GFS has now actually shows more precipitation into North Central Alabama. It shows snow breaking out Tuesday morning in the I-20 corridor. Accumulations by Tuesday evening should be less than one inch north of I-20.
…South of I-20, snowfall amounts will pick up. 1 to 2 inches of snow will fall south of I-20 to a line from Demopolis to Verbena to Lafayette. South of the Demopolis-Verbena-Lafayette line, will average 2 to 4 inches.
Here is the GFS Snow Depth Chart: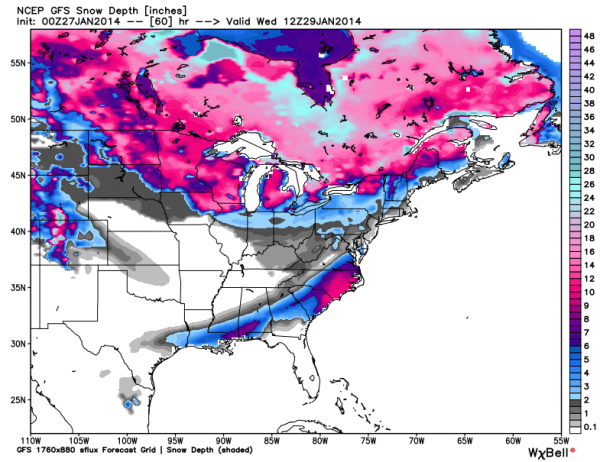 NAM COLDER
…It seems to me that the 0z run of the NAM is considerably colder for South Alabama. I think this means that places like Mobile, Fairhope, Brewton, Atmore, Opp, Florala, Enterprise, Ozark, Dothan and Headland may a decent amount of snow on top of sleet on top of a layer of ice from freezing rain in the event.
…In South Alabama, the main part of the event will be Tuesday night, but there will be some preliminary wintry precipitation late Monday night.
FOR THE I-20 CORRIDOR
…I will give a little more weight to the GFS and warn that there could be a dusting to 1 inch in areas near and within 25 miles to the north of I-20, commencing late Tuesday morning and continuing Tuesday afternoon.
FOR CENTRAL ALABAMA (SOUTH OF A LINE FROM DEMOPOLIS TO VERBENA TO LAFAYETTE)
…Precipitation should stay in the form of rain through tomorrow evening. Then it will change to freezing rain and the sleet overnight. Expect one tenth of an inch of ice accumulating late Monday night, causing travel issues for late tomorrow night into Tuesday morning. Snow will begin Tuesday during the day and 1 to 2 inches of snow will accumulate before it ends. This will cause continued travel problems until the sun comes out during the day on Wednesday and temperatures warm back into the 40s.
FOR MOBILE
…Light precipitation starts around midnight Monday night. It starts as rain, but quickly becomes freezing rain as temperatures near the surface fall to freezing. Around 0.05″ of ice may accumulate between midnight and 6 a.m. in the Mobile area, causing problems on bridges and overpasses potentially.
…It now appears Mobile may stay below freezing between 1-2 a.m. early Tuesday through the entire day on Tuesday.
…Precipitation may be limited during the day Tuesday, but should begin again Tuesday afternoon or evening, starting as freezing rain. Freezing rain occurs when snow melts as it falls through a warm layer above the surface but freezes when it comes into contact with surfaces that are at or below freezing. Around a tenth of an inch should accumulate before the changeover to sleet. This will cause significant travel problems Tuesday evening.
…The precipitation should change over to sleet Tuesday evening as the layer of freezing air deepens, lasting about 3-4 hours. As much as one half inch of sleet could accumulate on top of the ice, causing even more serious travel problems.
…The precipitation should change to snow before midnight Tuesday night as more cold air moves in. Up to two inches of snow could accumulate before the snow ends around sunrise Wednesday.
SOUTH ALABAMA: TRANSLATE THIS SCENARIO EAST NORTHEASTWARD
…Just take this situation and push it east northeastward across the northern Florida Panhandle and southern Alabama. Most areas should experience the same change over from rain to freezing rain to sleet and then snow. The further east you go, the more snow may fall.
FOR NEW ORLEANS
…Precipitation should be all rain until mid-afternoon Tuesday. As surface temperatures drop to freezing, the precipitaion should start begin to freeze on exposed surfaces, perhaps causing big problems at rush hour. Snow will begin Tuesday evening and quickly accumulate to 2-3 inches in the greater New Orleans area back into Morgan City and down to Houma.
FORECASTED SNOW DEPTHS
From the NAM…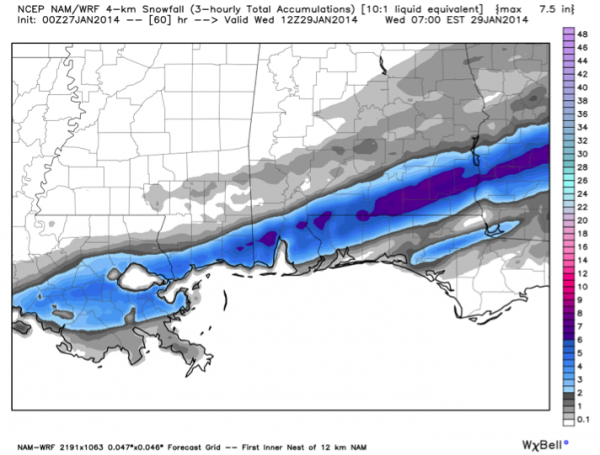 MORE SNOW IN UNUSUAL PLACES
Savannah and Charleston could see 2-4 inches of snow, with more to the north and northeast of Charleston. Amaazingly, over 8 inches of snow could fall in eastern North Carolina locations like Wilmington and Morehead City. Here is a wider snow depth forecast from the NAM: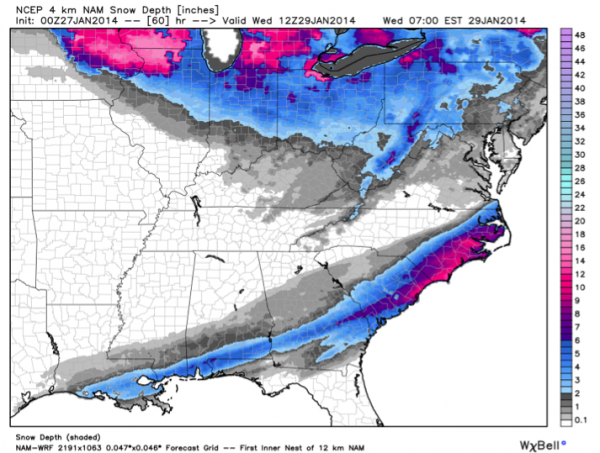 Category: Alabama's Weather, Winter Weather
Bill Murray is the President of The Weather Factory. He is the site's official weather historian and a weekend forecaster. He also anchors the site's severe weather coverage. Bill Murray is the proud holder of National Weather Association Digital Seal #0001
@wxhistorian