Drought has begun to raise its ugly head with abnormally dry to moderate drought covering a good portion of Alabama. The rain forecast primarily for Monday will help out, however, we can probably use more than the roughly three-quarter of an inch forecast for us.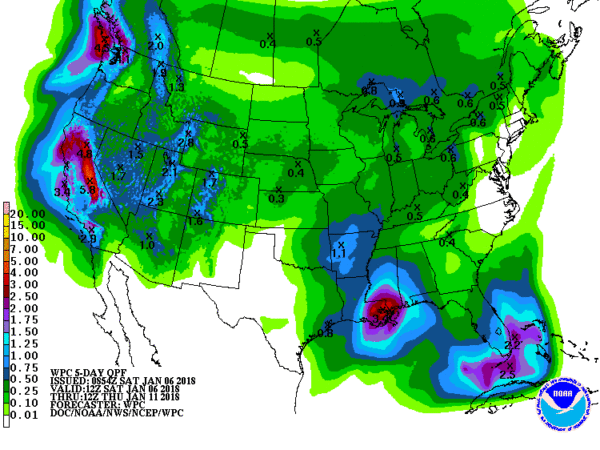 Satellite imagery this morning showed mainly clear skies across the Southeast US, but those skies were streaked with some high cirrus clouds. Morning temperatures at this writing were in the teens and lower 20s once again, but we should at least reach the lower 40s today and upper 40s Sunday.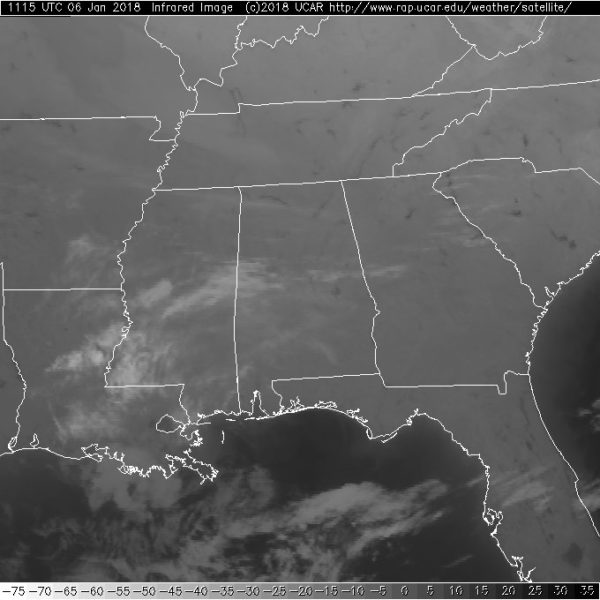 The broad trough is still in place across the eastern US, but the pattern is going to undergo a change for the coming week. Slight ridging will help drive temperatures up on Sunday, but another short wave is forecast to move across the Southeast US on Monday. As the surface high moves to the Outer Banks of North Carolina, our flow Sunday afternoon and evening will come around to the south and pump up moisture for us. Looks like rain becomes a good bet Sunday evening and Monday.
The GFS still maintains the potential for some mixed wintry precipitation over Northwest Georgia and Northeast Alabama early on Monday morning. Bridge icing potential is fairly high, but this event should be fairly short-lived as temperatures are forecast to warm up Monday morning and put an end to the wintry precipitation. For us in Central and North Alabama, it should be a cold rain on Monday as highest finally climb out of the deep freeze with highs in the lower 50s.
Wednesday and Thursday should be dry, though I do note the GFS maintains low probability for showers as the southerly surface flow remains in place. Aloft, a ridge pumps up along the East Coast in response to a digging trough coming out of the southern Rockies into the Lower and Middle Mississippi River Valley by Friday. GFS MOS guidance even prints out highs in the 60s – wow, what a change.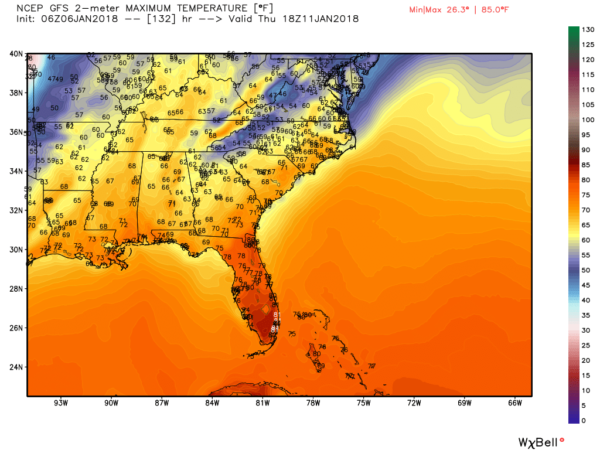 A cold front is forecast to move across the Southeast US on Friday which should bring another fairly good potential for some additional rain. Unfortunately another trough digs into the Middle Mississippi River Valley on Saturday, so Friday and Saturday will see us drop back from those nice 60s to highs in the 40s for Friday and Saturday.
Looking out into voodoo country, the broad trough over the eastern US comes back for Monday, but the broad roughing eases for Tuesday and Wednesday. By Friday, we have another strong trough near the Four Corners area with nice ridging over the eastern half of the US, so we should see some warm days then. But by the 21st of January we have another strong disturbance carving out a trough in the Central US. So the pattern is still forecast to remain active, it just doesn't look as cold as what we've seen recently.
Football Weather: For fans headed to Atlanta for Monday's national championship game, there is a window Monday morning when some freezing rain is possible across North Georgia with potential for a little bridge icing. This should be a temporary issue, and temperatures should be above freezing in Atlanta by late morning. Rain is likely through Monday night, so take some rain gear if you plan on walking to Mercedes Benz Stadium. The high in Atlanta Monday will be in the lower 40s.
Beach Forecast: Click here to see the AlabamaWx Beach Forecast Center page. The Beach Forecast is partially underwritten by the support of Brett/Robinson Vacation Rentals in Gulf Shores and Orange Beach. Click here to see Brett/Robinson's Hot Deals now!
WeatherBrains: Don't forget you can listen to our weekly 90 minute netcast anytime on the web, or on iTunes. This is the show all about weather featuring many familiar voices, including our meteorologists here at ABC 33/40.
Thanks so much for tuning in. I expect to have the next Weather Xtreme Video here by 7 am or so on Sunday. Enjoy the dry weekend, but know we need the rain come Monday. Godspeed!!
-Brian-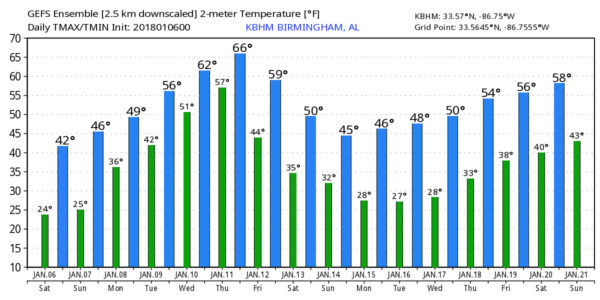 Comments
Powered by Facebook Comments
Category: Alabama's Weather, ALL POSTS, Weather Xtreme Videos
Brian Peters is one of the television meteorologists at ABC3340 in Birmingham and a retired NWS Warning Coordination Meteorologist. He handles the weekend Weather Xtreme Videos and forecast discussion and is the Webmaster for the popular WeatherBrains podcast.