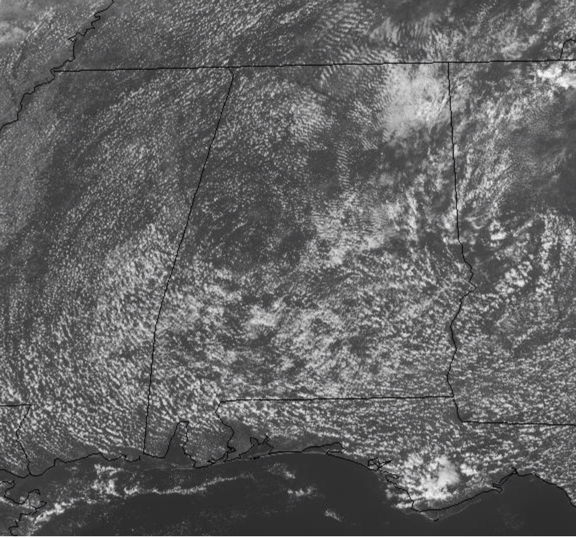 Stepping outside, the Alabama blast furnace continues this weekend as the very strong upper-ridge in place remains the dominant feature in our weather.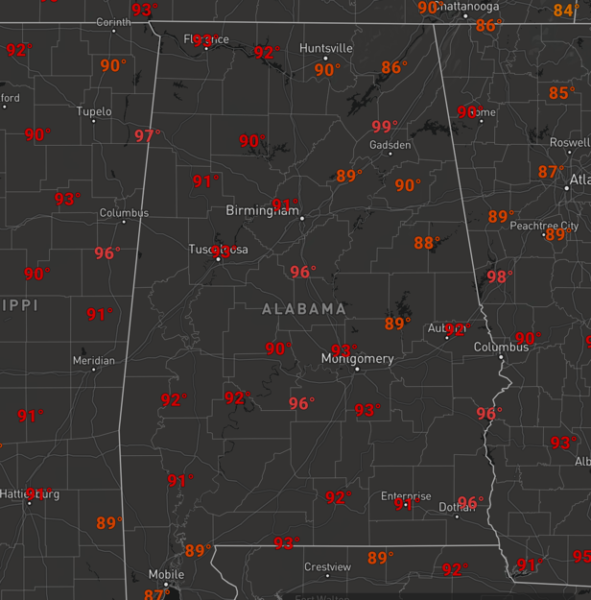 The day to day weather will not be changing much as the sky will be partly to mostly sunny and temperatures very hot as highs will be in the mid and upper 90s through out all of Alabama, and there will likely be some low 100s on the maps each afternoon. Once again the average high for Birmingham this time of year is 81 today falling to 79 by next weekend, unfortunately, temperatures will be no where near these values as daily temps will remain 12-18 degrees above average. As we have seen the past few days, there will be a few showers/storms on the radar this afternoon and evening, but these will be few and far between and most locations will remain high and dry. The best chance for rain today is across eastern portions of the state. For tomorrow, rain chances are expected to be lower and fall to below 10%.
RECORD HIGHS THROUGH NEXT WEEKEND: All of these are in jeopardy of falling or at least being tied as this blistering heat wave continues.
Today, September 28: 94 (1986)
Sunday, September 29: 96 (1904)
Monday, September 30: 95 (1904)
Tuesday, October 1: 94 (1919)
Wednesday, October 2: 93 (1904)
Thursday, October 3: 93 (1911)
Friday, October 4: 92 (1925)
Saturday, October 5: 94 (1927)
Sunday, October 6: 94 (1954)
Monday, October 7: 93 (1925)
Once again, for the month of October for the City of Birmingham, 94 is the hottest afternoon high on record and this is likely to fall over the first week of the month.
CODE ORANGE OZONE ALERT: The Alabama Department of Environmental Management, continues an Air Quality Alert for Jefferson and Shelby Counties for today. Under Code Orange conditions, ground level ozone concentrations are expected to reach levels that are unhealthy for sensitive groups. Children and people with asthma are individuals most at risk under these expected conditions.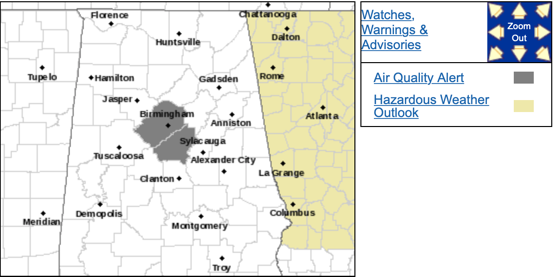 THE WEEK AHEAD: No real change; continued hot and mostly dry weather with heat levels around record levels with mid and upper 90s expected across North/Central Alabama each afternoon. Next weekend the GFS shows the ridge starting to break down and a frontal boundary making its way into the state with a few scattered showers and some cooler weather. Now when I say cooler, I mean closer to seasonal values, but still anything is better than what we have been and are dealing with currently. The high heat and very dry weather the next week are only going to make drought conditions much worse and increase the fire danger. Though a few showers are possible each day this week and the possibility of higher rain chances next weekend, still don't expect any significant or beneficial rains anytime soon as climatology shows October is the driest month of the year in Alabama.
IN THE TROPICS: Hurricane Lorenzo, is a category 3 hurricane with sustained winds of 115 mph. It is tracking north through the Central Atlantic and this system is no threat to land. By midweek, the system will threaten the Azores, but it will be weakening. The rest of the Atlantic basin is quiet with no areas of interest or risk of development the next five days.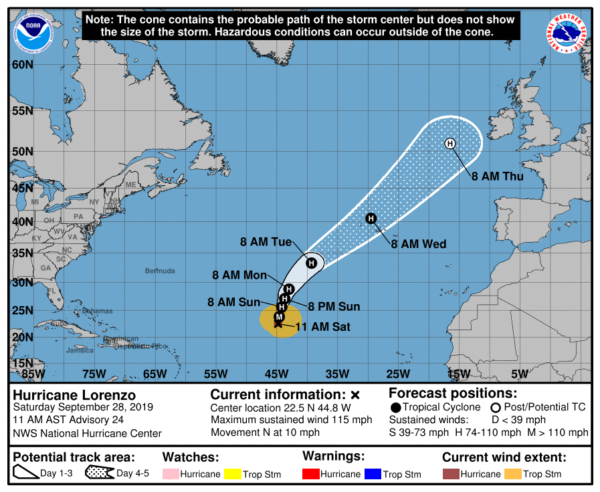 BEACH FORECAST CENTER: Get the latest weather and rip current forecasts for the beaches from Fort Morgan to Panama City on our Beach Forecast Center page. There, you can select the forecast of the region that you are interested in visiting.
WORLD TEMPERATURE EXTREMES: Over the last 24 hours, the highest observation outside the U.S. was 114.8F at Arafat, Saudi Arabia. The lowest observation was -93.5F at Amundsen-Scott South Pole Station, Antarctica.
CONTIGUOUS TEMPERATURE EXTREMES: The highest observation was 103F at Falcon Lake and Rio Grande Village, TX. The lowest observation was 17F at Hornet Mountain, MT.
Category: Alabama's Weather, ALL POSTS
Montgomery Television Meteorologist and long time Contributor on AlabamaWX. Stormchaser. I did not choose Weather, it chose Me. College Football Fanatic.
@Ryan_Stinnet